Professor Sir John McCanny CBE is Regius Professor of Electronics and Computer Engineering and Director of the Institute of Electronics, Communications and Information Technology (ECIT) at Queens University Belfast. He is also the academic Principal Investigator for the Centre of Secure Information Technology (CSIT www.csit.qub.ac.uk, see a
Finance Dublin
March 2016 article on CSIT
here
), the UK's Innovation and Knowledge Centre for Cybersecurity.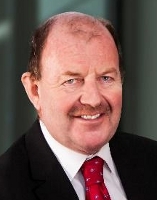 He was responsible, at Queens, for developing the vision that led to the creation of the Northern Ireland Science Park - now Catalyst Inc - and the ECIT Global Research Institute (www.ecit.qub.ac.uk) for which he is currently Director. In 2002, the Science Park was a "brownfield site". Today 160 high technology companies are located there, employing over 2,600 people. He also successfully co-founded two high technology companies based on his research activities, APT Ltd, later acquired by Qualcomm, and Amphion Semiconductor, later acquired by Conexant.
Professor McCanny is a Fellow of the Royal Society, the Royal Academy of Engineering and the IEEE. He is also a member of the Royal Irish Academy. His awards include the IET's Faraday medal, the Royal Irish Academy's Cunningham medal, the Irish Times/Royal Dublin Society Boyle medal and an IEEE Millennium medal.