The Master of the Worshipful Company of World Traders, Alderman Professor Michael Mainelli, led a delegation of over 50 liverymen, including senior politicians and media personalities, to Dublin on a trade visit on June 14-16th. A number of events were held during the two day visit including a networking dinner at Iveagh House and a special symposium entitled 'Technology and Trade' hosted by IDA Ireland at its headquarters at Wilton Place, Dublin 2.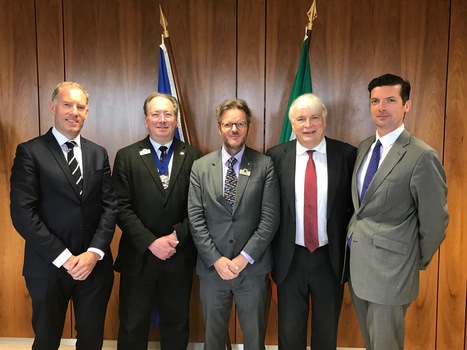 Professor Mainelli, who up until June this year was the international member on the Industry Advisory Committee of IFS Ireland, addressed the symposium on blockchain and 'smart ledgers', an area in which he has been leading research in for two decades. Patrick Young, publisher, Exchange Invest, was also amongst the speakers at the symposium which discussed the outlook for the Irish & UK economies, how technology might help with Brexit issues, and global trade opportunities for both countries.
Also pictured at the symposium at Wilton Place are IDA Ireland's Justin Sullivan,
Finance Dublin
publisher Ken O'Brien and KPMG's director of global healthcare Alan Hughes.
Michael Mainelli and Patrick Young will be among the speakers at
Finance Dublin
and
Aviation Finance's
Financial Centres Summit 2018 in Dublin Castle on the 2nd and 3rd October. They will join over fifty speakers at the event which will focus on the rapidly evolving business development opportunities for financial services businesses up to 2025 and beyond.