Established in 1876, Musgrave is a leading wholesale, retail and foodservice group operating under well-known brand names such as SuperValu, Centra, Daybreak, Frank and Honest, MarketPlace, La Rousse Foods and Donnybrook Fair in RoI and NI. In July 2018, Bank of Ireland Corporate Banking led and successfully co-ordinated the refinancing of Musgrave's syndicate RCF facilities with new credit facilities of €250 million at current market pricing provided by a syndicate of lenders.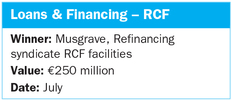 The refinance of its syndicated bank facilities includes five year multi-currency Revolving Credit Facilities, an accordion option and the potential to extend the maturity date, providing greater flexibility to the company in support of its growth plans.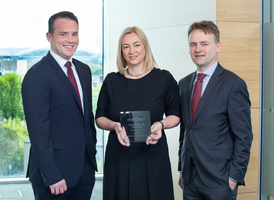 Commenting on the transaction, Maurice Healy, Director at Bank of Ireland Corporate Banking, said "We are delighted to continue supporting Musgrave Group Plc. The refinancing of their syndicated bank facilities are one part of Musgrave's lending and liquidity resources as it invests in existing and new initiatives. We enjoy a longstanding relationship and wish them continued success."
David O'Flynn, Chief Financial Officer of Musgrave Group Plc, said: "The refinanced facilities provide greater flexibility, reducing our costs and extending the maturity profile of our debt which will support our strategy of 'Growing Good Business'. It is great to achieve such a positive outcome with the help of our long-standing banking partners, Bank of Ireland, as well as the existing lenders to the syndicate."
As well as acting Co-ordinating bank, Bank of Ireland took a participation of €50 million and acted as Agent and Security Trustee to the lender syndicate of six banks. The transaction also incorporates a €50 million accordion option and two one year extension options, providing greater flexibility to Musgrave in support of its future growth and capital investment plans. The successful execution of this transaction provides Musgrave long-term debt funding at an improved maturity profile which will support its strategy of 'Growing Good Business' through capital investment, product development and innovation, and complementary bolt-on acquisitions.