In April 2018, Bank of Ireland provided new bilateral debt facilities to Netwatch, alongside private equity support from the Riverside Company, to facilitate the acquisition of three international surveillance monitoring companies, two in the US (NMC and CalAtlantic) and one in the UK (Onwatch).
The four target companies provided commercial and residential video surveillance for thousands of customers in Western Europe and North America, said Matheson Partner, Brian McCloskey. The Riverside Company acquired a substantial stake in all four target companies, which were combined to form the Netwatch Global Group.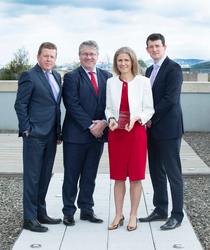 By combining the leading technologies of Netwatch and the reach and reputation of National Monitoring Centre, Netwatch Global is set to become the global industry leader in the field of proactive video surveillance and monitoring. Using cutting edge IP, the Netwatch Global Group now monitors 300,000 customer sites across four continents. Matheson acted as joint legal advisors to the Riverside Company on all legal, financing and tax aspects of its acquisition of the Netwatch Global Group. Matheson also advised on an equity investment as part of the overall acquisition.
BOI had a significant role in the transaction being the sole lender to the deal with a package of debt facilities to not only assist with the M & A transactions but to also support the group's growth ambitions for the future. Commenting on the transaction, Conall Boyle, Senior Manager, Bank of Ireland Corporate Banking said: "We are delighted to partner with Riverside in providing long-term financing to the Netwatch Group. Bank of Ireland has a proven track record in supporting Irish businesses with global reach and we look forward to further developing our long-standing relationship with the enhanced Netwatch Group and wish them continued success."
William Fry said this transaction was both novel and complex in that it involved a partial equity rollover by the selling shareholders into a shareholding in the purchasing entity, which also completed three other simultaneous acquisitions to form a much-enlarged Netwatch Global group. David Walsh, the CEO of Netwatch, was also appointed CEO of the newly formed Netwatch Global group on the completion of these transactions.
The transactions were funded by the private equity investor, the Riverside Company. The Riverside Company is a global private equity firm focused on making control and non-control investments in growing businesses valued at up to $400 million. Since its founding in 1988, Riverside has invested in more than 520 transactions. The firm's international portfolio includes more than 75 companies.
Commenting on the transaction, Riverside Ireland and UK Partner, Martin Scott said: "Bank of Ireland was excellent to work with on our first platform transaction in Ireland and we look forward to building on this investment."