IDA Ireland is the public body with statutory responsibility for promoting Ireland for Foreign Direct Investment (FDI) from the International Financial Services (IFS) industry. In 2019, the agency celebrates 70 years of operations. The last 30 years, however, especially following the establishment of the IFSC in 1987, have been the key years for our financial services business.
Over this period, IDA has constructed a financial services portfolio of almost 300 companies employing more than 33,000 staff. Currently, a team of executives operating from Dublin and the leading financial centres (London, New York, Paris, Frankfurt, Beijing, Tokyo) manage this portfolio and originate new investments on a global basis.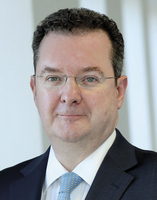 In 2018, this team won a record 60 plus individual investments across banking, payments, insurance, investment management, market infrastructure, aircraft leasing and financial technology. These investments will now become a source of the stream of social and economic benefits that are the ultimate goal of IDA's promotional work. These benefits will certainly include new employment opportunities and tax revenues, but also increased demand for regulated entities, legal, accounting, audit, technology, commercial real estate and other services. The new investments will also impact the supply-side by increasing Ireland's ability to supply more financial products and services across a broader range of asset classes. Some of the benefits will be less tangible but equally important. Ireland's status and position within the global industry and our influence in relevant public policy and regulatory fora will, in part, be enhanced by the presence of new investors, systemically important groups, more complex activities and senior decision makers with pan European or even global responsibilities.
Ireland's international financial services sector is on a positive growth trajectory and the jurisdiction is on the cusp of becoming a more significant operating location for the industry over the long-term. The UK decision to leave the European Union (EU) has been a critical event in facilitating this development.
Brexit
IDA's financial services team were engaged in discussions with clients and potential new investors about Brexit from early 2016. The consensus view at the time was that an exit was unlikely. The subsequent result of the referendum was a major shock to the industry, which was now confronted with the issue of how to preserve access to the EU market post March 2019. In terms of responding to Brexit, a majority of our clients have planned on the basis of a "Hard Brexit" involving zero or limited access to the EU market, no regulatory passport capability and restricted third country equivalence benefits. Within IDA, we have always treated Brexit as an event that poses both risks and opportunities to the sector here and have, therefore, actively sought to identify and capture the opportunities while managing and mitigating the risks. It is important to say that firms are certainly not abandoning London, but rather "carving out" and re-domiciling the EU facing piece of their London-based business. This represents the immediate opportunity arising from Brexit for this jurisdiction.
Over the last thirty months or so, IDA has engaged with a diverse range of financial services firms seeking a solution to Brexit. We have supported the locational due diligence exercise of firms' through a combination of confidential bilateral meetings and private briefing events involving key stakeholders such as the Central Bank of Ireland (CBI), Department of Finance and others. To date, we have addressed more than one hundred individual investor enquiries and hosted more than fifty site visits by technical teams to Ireland. The locational evaluations undertaken by various companies have been extremely detailed involving discussions with IDA on issues such as: regulatory capacity, capability and application process, booking models, substance requirements, operating costs, the availability of skilled employees, commercial real estate, taxation, broadband connectivity, housing, international schooling, work permits, incentives and future national policies.
Through these site visits triggered by Brexit, the international industry has acquired a new and deeper understanding of Ireland's proposition. The key elements that appeal most, but especially in the context of Brexit are:
• EU market access, cross-border distribution and regulatory passport capability.
• Our industry domain knowledge and skilled, multi-disciplinary, multi-cultural workforce.
• An internationally respected regulator with a deep understanding of particular business lines and a voice at the European Supervisory Authorities (ESAs).
• A very experienced advisory community - legal, accounting, audit, recruitment.
• A cost effective location with a significant cost arbitrage opportunity versus other leading financial centres such as London.
• Tax efficiency -12.5% corporate tax rate and extensive tax treaty network.
• Language and law - English speaking, common law jurisdiction.
• Labour market flexibility (employment law).
• Fresh and novel capabilities especially in respect of research and technology development (fintech and regtech).
• Our geographic, cultural and organisational proximity to London.
• A voice in shaping future EU policy and regulatory developments.
• Overall, a very attractive ecosystem and one that staff would be happy to relocate to.
Our engagement with existing clients and investors since June 2016 has paid rich dividends to date, resulting in more than forty individual Brexit driven financial services investments with employment potential of over 2,000 jobs over the next 2-3 years. These projects include: Barclays, Bank of America Merrill Lynch (BAML), TD Securities, Legal and General Investment Management, Morgan Stanley, S&P Global, KBRA, Thompson Reuters, Coinbase and many more. Several other firms who have not made public announcements about their post Brexit investments are in the pipeline for 2019.
Collectively, these investments have significance beyond raw project numbers and jobs, as many of them involve the relocation of senior business leaders and decision makers to Dublin, and the creation of substantial balance sheets, assets under management and associated governance, risk management and compliance capabilities. In this context, the new investments captured as a consequence of Brexit are becoming the foundation of a new phase of the development of the sector in Ireland.
Looking Forward
When we look at the financial services investments won as a result of Brexit and the pipeline of future projects, we can see that the character and composition of Ireland's international financial services sector is going to change in some interesting ways. There are going to be more, large balance sheet and systemically important institutions in Ireland as Barclays and BAML join Citibank as international institutions subject to joint CBI and ECB supervision. There will be a substantial increase in the size and presence of our international investment management industry as asset managers establish substantive ManCos in Ireland including those with MIFID authorisation e.g. Morgan Stanley. Our regulated payments sector will grow as more companies seek Payment Institution (PI) and Electronic Money (Emoney) licenses. There will also be an important expansion of our international insurance and market infrastructure sectors due to the arrival of high profile investors such as AXA XL and the Depository Trust & Clearing Corporation (DTCC) but also an inflow of more specialist firms such as Chaucer, Everest Re and Equilend. Ireland will also increase its participation in the continuing digital transformation of the industry as Citadel and others conduct market making and electronic trading activities from Dublin. In summary, the international financial services industry in Ireland is going to become deeper and more diverse as a consequence of Brexit.
The real significance of Brexit for the industry in Ireland may actually materialise in future years. At present, firms are establishing the foundations of a new or significantly expanded presence in Ireland, while simultaneously meeting CBI substance requirements, reconfiguring their overall EU business and monitoring the tortuous process of the UK exit. When this phase is complete, they will then begin to consider future plans and ways in which to leverage and develop their new Irish entities. To hasten this process, we have already prompted post Brexit conversations with firms around back and middle office activities, product range and distribution, service offering, digital transformation, innovation and optimization.
In our view, it is vitally important that Irish policy makers and regulators take advantage of a more substantial international sector in Ireland post Brexit, to develop and exert greater influence in European policy and regulatory fora. This could help ensure that the void left by the UK's departure is not dominated by stakeholders with large country agendas and a certain antipathy to the existing cross-border business model, which has been the historic basis of Ireland's role and success in the industry.
Brexit thus far has been a positive development for the industry in Ireland, but also a very high price to pay for the incremental opportunities that we have captured to date. In truth, given the political, social and economic significance of the overall EU project, we would all have much preferred if the UK had elected to remain in the Union. However, we must all now deal with the practical consequences of their decision to leave. In this context, the financial services team in IDA will continue to work hard to ensure that Ireland becomes an even more important jurisdiction for the industry in a post Brexit environment. In doing so, we must remember that finance as an industry presents a unique mix of rewards, risks and responsibilities. Collectively, we must endeavour to manage and balance all of these elements in the years ahead.