Sinn Fein are for fair personal taxation. That means easing the tax burden on the average worker, including those who are self-employed, and asking those who earn the most to pay their fair share.
We support the 12.5 per cent Corporation Tax rate, but this rate must be meaningful. Ireland should have no cloud hanging over our tax reputation. We have opposed the EU's Financial Transaction Tax and do not believe Ireland should participate at this point.
Our position on the future structure and ownership of the domestic banking and financing sector swill be outlined in our manifesto. We have always argued for state involvement in the domestic banking sector. We do not intend maintaining State ownership across the sector but do see a role for a State bank run on a commercial basis.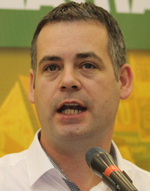 We would work with the Central Bank to encourage new entrants to the market and also see a role for local banks and Credit Unions in providing an alternative to traditional banks.
With regard to the appropriate regulatory framework for the industry, we are aware of current domestic and EU regulation and would seek to strengthen any regulation based on any further developments in best practice or as any potential issues arise. Regulation need to be strong and enforced. We would ensure the Central Bank has adequate resources to enforce the rules.
Sinn Fein would end the situation where the public subsidises the cost of 50% of the Central Bank's regulating of certain financial service providers by moving the entire cost of regulation of the financial sector to the industry.
Sinn Fein recognises that the Financial Services sector is an important part of the economy and in government we would ensure that it continues to play a role in aiding the recovery, jobs, and the restoration of order to the housing market.
We will also continue to engage with the sector and with representatives of workers in the sector to explore ways in which it can continue to play a role in creating a fair recovery.