Growth amongst Ireland's accountancy firms has returned to the levels recorded in the earlier years of this century following a number of difficult recessionary years. The previous survey high for top 20 fee income was €1,263.5 million in 2008. But in the following three years fee income fell over 15 per cent to reach a new low point in recent times of €1,071.3 million. Top 10 income rose 10.8 per cent to €1,287.3 million.
Significantly, therefore, the latest figures suggest that the strong return to growth evident in the 2014 survey was not a 'one off' but the start of a more enduring and sustainable recovery. Given the nature of the services provided by these firms, their growth provides a valuable bellwether indicator of the underlying economy.
Further confirmation of this is apparent from the experience of the largest of the Big Four, with PwC achieving a return to meaningful growth after four difficult years. In the latest survey it reported a 9.3 per cent growth in fee income to €329 million, in line with the overall average growth of the top 20. This followed growth of just 1.3 per cent last year and a fall of 1 per cent the year before that.
PwC's growth has been in all service areas in 2014 and to date in 2015 and is attributed by the firm to the general strengthening of the economy, continued FDI investment and a strongly recovering SME sector. The firm says it achieved some significant audit wins in local and international markets. It also reported robust demand for its assurance services, with client companies looking for comfort on a broader range of areas as they seek to build trust in their businesses. This includes regulatory and compliance work in areas such as banking and insurance as well as assurance on technology driven business risks. Demand from the asset management sector was also reported as remaining strong. Its strongest growth, however, was in advisory services, with increasing demand for cyber security, data analytics, digital and technology consulting services.
KPMG recorded another year of strong growth, up 11 per cent to €300 million. Although the latest growth rate was slightly below the very strong 13 per cent recorded in 2013, it means that the gap between the number one and two firms has been halved, from €58 million in the 2013 survey to €29 million this year. This is well below the €76 million gap between the two firms in 2010. KPMG reports that it is busy across all parts of its business. Fee income for its tax practice rose 22 per cent last year, while advisory services improved 9 per cent and audit rose 4 per cent.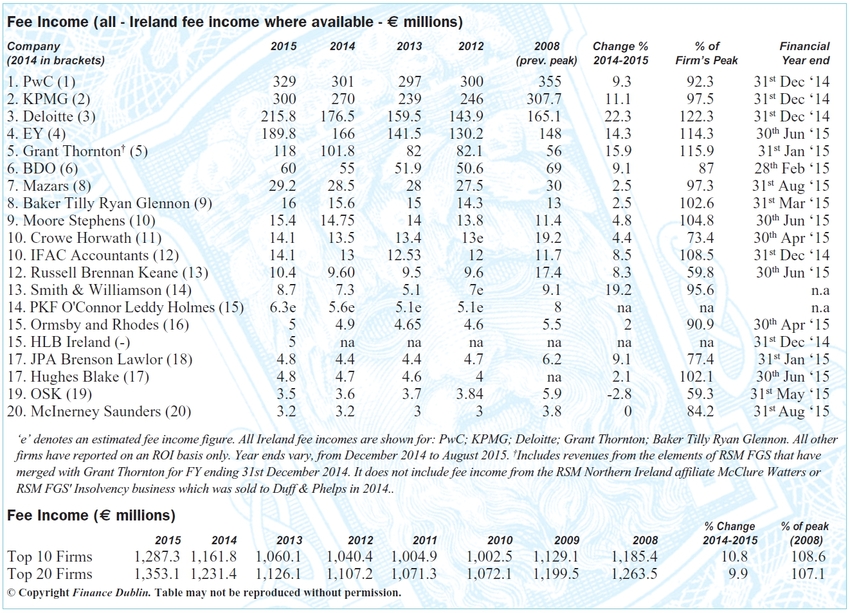 In third place, Deloitte picked up the pace, following its 10.7 per cent growth in last year's survey with a rise of 22.3 percent in the latest report. One of the reasons for this sharp jump is the continued expansion of its consulting services. Reflecting this expansion, last June Deloitte bought System Dynamics for an undisclosed sum, transferring its 200 staff to Deloitte Consulting and increasing the size of its consulting and advisory team to over 1,000.
The fourth of the Big Four, EY, also enjoyed an exceptionally strong year. Its fee income rose 14.3 per cent to €189.8 million. This follows growth of 17.3 per cent in the 2014 survey and 8.7 per cent the year before that.
EY Ireland grew all four service lines by more than 10 per cent. Collectively its audit and other assurance services achieved growth of 15.6 per cent to €131.7million in FY15. It reported robust' growth in its core audit services and strong demand for broader assurance services, which grew more than 40 per cent. Growth in the tax area was attributed by EY to the global increase in enforcement and compliance.
A number of changes occurred for the next largest firm, Grant Thornton, whose fee income increased by 15.9 per cent to €118 million. However, this reflects a number of changes as a result of its merger with last year's seventh largest firm, RSM Farrell Grant Sparks, which closed in October. Grant Thornton's latest figure only includes fee income from the elements of RSM FGS it merged with - it does not include the fee income associated with the RSM Northern Irish affiliate, McClure Watters, and the revenues of RSM FGS's insolvency business, which was sold to Duff & Phelps in 2014.
BDO put in a strong performance, improving 9.1 per cent to €60 million. For BDO tax services were the fastest growing area. The next two largest firms, Mazars and Baker Tilly Ryan Glennon, showed similar growth levels. The former improved 2.5 per cent to €29.2 million and the latter 2.6 per cent to €16 million. At BTRG corporate recovery continued to provide strong returns against a predicted slowdown in this space. It also experienced good growth in international services as a result of an increase in FDI clients.
Moore Stephens grew 4.8 per cent to €15.4 million. Growth of 4.4 per cent at Crowe Horwath and 8.5 per cent at IFAC accountants left them level pegging on €14.1 million, followed by Russell Brennan Keane, up 8.3 per cent to €20.4 million. RBK reports that within its corporate finance area both funding and restructuring remain strong, albeit coming towards an end, while there is a growing search for equity and non-equity funding solutions for SMEs facing retrenchment in the support provided by the banking sector. RBK's audit practice has also seen buoyancy and growth.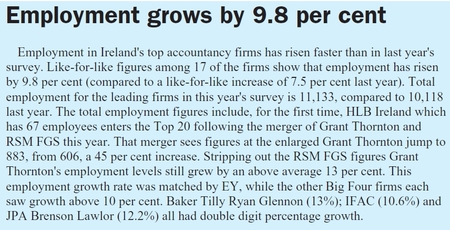 Amongst the sub-€10 million firms, Smith & Williamson stood out, gaining 19.2 per cent to €8.7 million, which followed a similar well above average figure of 43 per cent in 2013. The only firm in negative territory, for the second year running, was OSK, which dropped 2.8 per cent to €3.5 million. Here audit remains the primary growth area of the business. Audit & taxation services performed strongly at JPA Brenson Lawlor, helping lift its fee income by 8 per cent to €4.8 million.
The merger of the fifth and seventh largest firms has facilitated the entry of HLB Ireland into the Top 20 at joint 16th place with a fee income of €5 million, shared with Ormsby & Rhodes, which gained 2 per cent. At HLB Ireland robust returns are being experienced in both the tax and corporate finance areas, seen as the result of a large number of transaction services in the recovering economy. At Hughes Blake the growth areas were corporate recovery and corporate finance.
Productivity
The majority of firms experienced small declines in productivity, as measured by fee income per staff member, reflecting in the main increases in numbers of staff employed ahead of the rises in fee income. This could be seen to suggest that, on the back of a second year of growth in fee income across virtually all activity areas, firms have been recruiting in anticipation of this pace of growth continuing for the next few years.
The biggest increase in proportional terms, and also nearly in absolute numbers, was at Grant Thornton, where the number employed increased by 277, or 45 per cent, to 883 as a result of its merger with RSM Farrell Grant Sparks. The biggest increase numerically was 285, or 10 per cent, to 3,128 at PwC. Both KPMG and Deloitte increased their headcounts by 11 per cent, to 2,198 at the former and 1,823 at the latter. At EY the increase was 14 per cent to 1,345.
Income per staff member increased for six firms. EY retained its position as most efficient for the second year running, with a virtually unchanged figure of €140,440. It also retained its position at the top of the table of income per chargeable staff member, although here the figure of €160,984 reflected a 1.5 per cent drop on the €163,386 recorded the year before.
KPMG retained second place under both categories, at €136,448 for all staff and €152,207 for chargeable only. Grant Thornton, in 11th place last year at €98,185, jumped 36 per cent to €133,635 to take third place.
Deloitte rose 10.5 per cent to €118,376, followed by BDO, up 7.4 per cent to €117,647. Ormsby & Rhodes, with a 7 per cent fall in staff numbers to 43, increased its productivity per staff member by 18.7 per cent to €116,729.
PwC was once again mid table, with its increase in employment outpacing, for the moment at least, its growth in revenues. This resulted in its fee income per staff member falling 0.7 per cent to €105,179.
Elsewhere in the list the biggest changes were a 9.5 per cent drop in income per staff member to €110,345 for Baker Tilly Ryan Glennon, a 5 per cent decline at OSK to €88,883, and a drop of 3.8 per cent to €86,364 at JPA Brenson Lawlor.
Against the trend amongst the smaller firms in the top 20, Russell Brennan Keane achieved a 4.2 per cent rise to €79,389. Newcomer HLB Ireland, with a total staff of 67, of which 59 are chargeable, reported an income per staff member for its first year in the list of €74,197.