Last year, European investment into solar PV electricity projects amounted to over €40 billion, overtaking wind for the first time and supplying 47% of the EU's newly installed electricity capacity. It is easy to see why investors have been smiling on solar. Newly completed projects will have a productive life of 30-35 years. In most European countries they enjoy a 20-25 year, government guaranteed income stream and sometimes that income is indexed to inflation. Moreover, the investment risks are small. There are no moving parts in a PV plant, the technology is simple with very little to go wrong. The income stream is reliable and predictable. Solar radiation, the feedstock of solar PV, rarely varies by +/- 5% in any given year. Remote monitoring allows managers to monitor the performance of their investments on a daily basis.

With such an investor-friendly end product you would be forgiven for thinking that, in theory, at least, solar energy projects are a joy to develop and offer an easy path to profit. In BNRG we have almost worn out the phrase "if it were easy everyone would be doing it". Solar PV development is complex and offers long term rewards only to those companies that are flexible, innovative and able to respond to change quickly.
David Maguire and I founded BNRG Renewables in 2008. The company is based in Dublin's IFSC and has developed projects in the UK, Bulgaria and Greece. During 2012 we will add at least one further country to that list. To date we have confined ourselves to commercial-scale, ground-mounted, solar PV projects, mostly of one megawatt and upwards. This year BNRG expect to complete projects with a total value of over €40,000,000.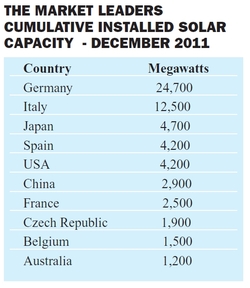 Initially the business model was to acquire greenfield sites and take the projects through the planning and permitting system. This has progressed to the full construction of projects and their sale to investors as we broadened both our skill base and our capital base. During the next twelve months as our cost of capital reduces, we expect to be able to retain, as long term investments, some of the projects we construct.
In Bulgaria, where we operate in a joint venture with a local partner, we have taken projects totalling 14MW through the permitting system. A number of these we have recently sold, the rest will be constructed later this year.
The UK is our own backyard. As it shares our legal system and has broadly similar planning laws, a local partner is less necessary. The original UK supports for solar were generous and last year the Coalition brought in drastic reductions but not before we were able to complete two large scale projects which have since been sold to an investment fund. For the next two years the UK will remain our priority territory and we are firmly of the belief that there will be opportunities in 2012 and 2013 for developers who get their site selection absolutely right and operate a "Ryanair model" when it comes to project costs.
Since 2009, BNRG has worked closely with Mike Hayes and KPMG's renewable energy division in the IFSC. KPMG work with most of the leading companies in the renewables sector. For BNRG they have been instrumental in providing corporate finance and strategic advice. Above all they have kept us calm when panic or, more precisely, giving away equity at rock-bottom prices, might have been an easier option. BNRG's two founders still control 100% of the equity.
Although completed PV projects are low risk investments the actual development of those projects does bear some risk. Political risk is perhaps the most significant of these with governments throughout Europe now feeling freer to announce changes to supports for renewable energy at short notice. Solar operates in an unusual commercial environment of rapidly falling costs. In 2008, enginineering, procurement and construction (EPC) contracts were typically priced at €5.0m and more per megawatt. By 2012 that price has dropped to €1.5m. Legislators throughout Europe have tried, but so far failed, to provide a mechanism that allows government to match drops in subsidies to falls in the cost of technology whilst providing a stable framework in which the industry can operate.
All this means that, in the current environment, solar developers need to be nimble and to keep their cost base low. Diversification into different territories is essential. Early movers will nearly always secure the best sites on the most advantageous terms and be less vulnerable to political risk.
The need for subsidies and the consequent political risks to solar PV development will reduce as equipment costs fall further and the cost of PV gets closer to parity with other forms of electricity generation. The European PV industry is currently alive with speculation that "grid parity" can be achieved in Mediterranean countries by 2015. There is a whole new roadmap to be drawn for solar development in Europe in the second half of this decade.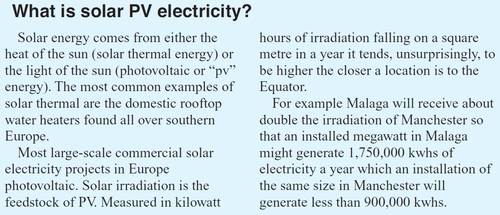 Already grid parity or, more precisely, "fuel parity" has been achieved in at least 50 smaller countries between the tropics where solar radiation is high but where electricity is typically generated by diesel or other oil products leading to consumers paying crippling fuel surcharges on their monthly power bills. It is in some of these territories that we see a part of our future expansion. New territories bring new challenges. In many of these countries electricity generation is in the hands of government controlled utilities who are jealous of outsiders coming in to challenge their monopoly. In other countries bureacracy and corruption are at unacceptable levels. We will not be establishing BNRG Somalia anytime soon!
We are sometimes asked why as a solar PV project developer we would want to base ourselves in Dublin's IFSC. It is true that there is no local market for solar. But Ireland is an international centre of excellence for niche sectors such as aircraft leasing and software development neither of which benefit from any significant local market.
What has been of benefit to us has been the substantial body of corporate finance and professional expertise that has grown up around around world class renewable energy companies such as Airtricity, Mainstream and NTR who have their roots in Dublin.
We are strong supporters of the Green IFSC concept and would hope that this has the capacity to deliver benefits to local Irish developers also. The Green IFSC Group has already contributed significantly to the new investment and employment incentive scheme. What is really needed now is a greater focus on bringing international funds into Dublin in the Green Sector as this would provide opportunities for Irish developers to develop links with these funds. The most critical aspect of all however, is a functioning banking system which is providing project finance for these projects.