Redefining ABS and structured finance
To view the 2007 conference brochure click here.
The conference took place as:
New fundamental concepts in the industry emerge to transform key processes - in credit rating, reporting, legal processes, and investment approaches
The global servicing industry responds with new solutions, and new opportunities
A new investment and trading environment emerges
New opportunities arise for Ireland and the other leading international securitisation centres.
Over 200 people attended the Sixth annual conference, which heard a keynote address from the Governor of the Central Bank and Financial Services Authority of Ireland, and member of the Governing Council of the European Central Bank.
New methods of improving transparency, a new approach to ratings, implications for the development of products, and new products were amongst the seminal issues that were dissected, debated and discussed at the conference.
The conference themes were explored in a series of panel discussions, covering macro issues, trading issues, product market assessments, issuance analysis, servicing centre analysis, servicing issues, such as the developing role of trustees, regulation, reporting, jurisdictions and regions.
SPEAKERS INCLUDED:
John Hurley, Governor of the Central Bank of Ireland, and member of the Board of Governors of the European Central Bank
Jeffrey Amato, Head of European Credit Strategy, Goldman Sachs
Georg Grodzki, Head of Credit Research, Legal & General
Robina Barker Bennett, Managing Director, HBOS
Moorad Choudhry, Visiting Professor, Department of Economics, London Metropolitan University, and Visiting Research Fellow, ISMA Centre, University of Reading
Stephen Hynes, Managing Director Capital Markets, GMAC-RFC Europe
Dr Victoria Johnstone, Senior VP, Structured Finance Quantitative Group, Dominion Bond Rating Service (DRBS) (Europe)
Iain Barbour, Managing Director, MBIA UK Insurance Limted
Giuliano Giovanetti, Head of Sales & Market Development, PMI Europe
Patrick Coleman, Depfa Bank
Dermot Hardy, Head of Treasury, Aareal Bank AG, Dublin Branch
Philippe Tapernoux, Head of UK/Northern Europe Securitisation, IXIS Corporate & Investment Bank
Sean Hannigan, Financial Analyst, Standard & Poors
David Maughan, Capital Markets Group, Maples & Calder
Walter Gontarek, CEO, Channel Capital
Paul Fenn, Development Director, HML - Homeloan Management Ltd
Brian Lancaster, Head of Structured Products Research, Wachovia Capital Markets
Fergal McGrath, Managing Director, Global Head of Credit Spread Portfolio, Dexia

HIGHLIGHTS:
Panels were multidisciplinary, e.g.included, investors, traders, issuers, lawyers, and analysts
Investment focus including on trustee, SPV structuring, legal and regulatory topics
New products included: CDO, ABS, CMBS/RMBS innovations, growth in the synthetic markets
Outlook for the debt capital and credit markets
Exhibition
New and developed agendas for the Conference's 'Securitisation 100 and 200' half day seminars under the chairmanship of leading international structured finance academic Prof Dr Moorad Choudhry provided attendees with latest insights on industry developments.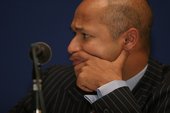 The conference's parallel seminars (Securitisation 100 and 200) were again led by one of the world's leading authors of securitisation and credit textbooks Dr Moorad Choudhry (pictured above leading a course at this year's Finance Dublin Securitisation Conference). Click on Seminar Programmes in the menu on the top left hand side of this page to see the programmes for this year's conference.
Conference Sponsors
Click on logos for information
Media Partners
Click on logos for information
---