Central Bank of Ireland Deputy Governor Cyril Roux has been appointed chair of the European Securities and Markets Authority's (ESMA) Investment Management Standing Committee.
Roux, who is already a member of ESMA's Management Board, replaces the Central Bank's former Director of Markets Supervision Gareth Murphy in the role. Murphy resigned from his position in August and will leave the Central Bank in November 2016 to take up an appointment with Standard Life.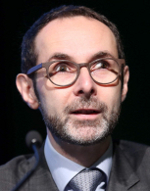 Roux's appointment is for a period of two years and is effective immediately. The Investment Management Standing Committee (IMSC) is responsible for fostering supervisory convergence amongst national authorities, implementation of new rules and providing guidance on existing requirements for investment funds. In addition, the committee produces technical advice to other European institutions, such as the EU Commission.
The Central Bank has held the chairmanship of the Committee since 2012. DG Roux said 'The Central Bank's continued occupancy of this role reflects our commitment to contribute to the current international regulatory work on asset management and financial stability, which will be an important element of ESMA's work plan in the coming period. It also reflects the range and depth of knowledge in Ireland's investment funds sector and its standing in European policy forums.'
Each of ESMA's Standing Committees has a consultative working group (CWG) made up of external stakeholders. Members of the IMSC CWG include KPMG partner Darina Barrett. She is one of only two Irish-based professionals represented on ESMA's CWGs. The Irish Stock Exchange's Gerard Scully is a member of the Corporate Finance Standing