Dublin FG MEP Brian Hayes has been putting Dublin's case as the new home for the EBA - 'I think a eurozone country that speaks English (and) which has 10% of its GDP in financial services is the kind of country that they would be looking at.' He added that it would be up to the (Irish) Government to convince European colleagues that Dublin is the most suitable new location for the authority.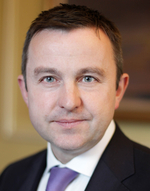 As all European Union agencies need to be based in member states moves for the two EU agencies located in the UK, (the EBA and the European Medicines Agency) are inevitable. EBA chairman Andrea Enria said before last week's referendum that it would have to move if Britain chose to leave. EU officials said they expected the 159- employee European Banking Authority and the European Medicines Agency, both now based in London's Canary Wharf, would be relocated 'soon'.
Another financial institution that could also be looking for a new home could be the London-headquartered European Bank for Reconstruction and Development (EBRD). The EBRD, part owned by 65 countries (including the UK), as well as the European Union and the European Investment Bank, is a multilateral developmental investment bank established in 1991 to support countries of the former Soviet Union in their efforts to establish private sectors.
Paris and Frankfurt have been widely spoken of as early leaders in the chase for the EBA. Hubertus Vath, managing director of Frankfurt Main Finance, which promotes the German region as Europe's financial centre, said it would be the 'natural choice', arguing that other bricks of the regulatory pillar were already based there and the EBA is one of the missing pieces. Milan has also been put forward as a contender by former Italian prime minister Enrico Letta.
Ireland South FG MEP Deirdre Clune expressed her support for Brian Hayes in his EBA proposal, and says that Cork's large pharma sector makes its an attractive option for locating the European Medicines Agency.
This article was published on June 29th 2016