The first Directory of International Financial and Professional Services firms in Northern Ireland
Welcome address by Arlene Foster, Minister for Enterprise, Trade & Investment, Northern Ireland, on the occasion of the publication of the First Directory of international financial and professional services firms in Northern Ireland in the 2013 Finance Dublin Yearbook, published in April 2013.
Northern Ireland Executive is committed to growing international financial services
The evolution of financial and professional services in Northern Ireland over the past 10 years has seen the emergence of a sector with both the scope and scale to service financial institutions globally. It is therefore timely and welcome to see this directory of Northern Ireland financial and professional services firms included in the
Finance Dublin Yearbook
for the first time.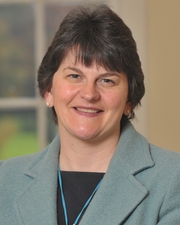 Arlene Foster, Minister for Enterprise, Trade & Investment, Northern Ireland
When Citi established a technology centre in Belfast in 2005, they joined a small but fast growing cluster of financial firms investing in the region which included Liberty Mutual and the Allstate Corporation. Citi understood the potential of their Northern Ireland centre not just for software development but also for middle and back office operations and legal and compliance services. In 2011, they announced their fifth expansion in Belfast with a target of 1500 staff providing integrated financial services and support to their markets in EMEA and beyond.
Today our financial and professional services sector includes major investors such as Citi, NYSE Euronext, CME Group, PwC, Cowen Group, Mercer, Allen & Overy, the Allstate Corporation, Axiom and Liberty Mutual and it covers a broad spectrum of activity such as software development; R&D; fund administration; legal and regulatory services; and a range of other middle and back office operations.
Inward investment continues to be a key driver for this growth, as it is for our economy as a whole. However, we have also seen local entrepreneurs who have brought extensive international experience back to Northern Ireland and established businesses to service international financial markets. This has led to the growth of companies like Singularity (acquired by Kofax in 2011), First Derivatives and Wombat. Wombat was acquired by NYSE Euronext in 2008 since which time NYSE has announced two expansions. In February I had the pleasure of congratulating NYSE on the recruitment of their 300th employee, and am confident we will continue to see their Belfast centre grow.
International financial services acts as an important catalyst for creating high-value jobs, R&D investment and opportunities for the wider supply chain. The Northern Ireland Executive is working to rebuild the region's economy following the recession, while rebalancing it over the longer term. The continued development of the financial and professional services industry will therefore remain a priority for Government.
In harnessing this opportunity, my Department (Enterprise, Trade and Investment) is working closely with the other areas of the Executive and with industry and academia. Our aim is to ensure that Northern Ireland continues to offer the right mix of high quality talent and infrastructure in a cost effective and pro-business environment.
Ours is a small region, and in many ways this gives us greater capacity to meet investor needs flexibly and proactively. We are proud to say that more than two-thirds of investors into the region choose to re-invest, which provides a key indicator of their satisfaction with their operations in the region.
Northern Ireland is well placed to keep growing and developing as an international financial services centre. Looking to the future I and my colleagues in the Executive are committed to ensuring its continued success.