Wall Street-style trading room to open at Queen's in Belfast
February 17th:
Northern Ireland's first ever virtual financial trading room is set to open at Queen's University Belfast. It is funded by First Derivatives, the Newry-based provider of products and consulting services to the capital markets industry, and also backed by Invest Northern Ireland.
The First Derivatives Trading Room will replicate New York and London trading rooms and according to Professor Donal McKillop from Queen's University Management School, 'is an interactive virtual environment where students learn to trade financial instruments and manage financial portfolios using live prices and the latest investment and trading technology.'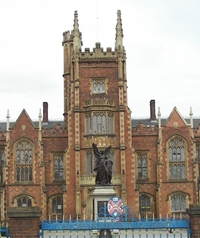 Queen's University Belfast
Alastair Hamilton, CEO at Invest Northern Ireland, believes that the facility can help leverage significant investment into Northern Ireland. 'Northern Ireland is already among the top global destinations for financial technology investments and Belfast is the number one city for attracting research and development in financial services software. Our impressive track record is based on the quality of talent we have in the region and on the fact that our world-class universities continue to mould programmes to meet the needs of industry... the trading room has the potential to make Northern Ireland a more interesting proposition to international companies and investors keen to set up where there is a pool of highly skilled graduates who blend theory with practice.'
2012 has seen several positive developments for the financial technology industry in Northern Ireland. Chicago Mercantile Exchange announced this month that they are to open a back office software development unit in Belfast by the end of the first quarter of this year. They join the New York Stock Exchange, whose Belfast base employs approximately 400 people focusing on high level back office work.