Former Secretary of State sees financial services as key jobs driver
In early March 2011, TheCityUK, the then newly formed umbrella body to promote the financial services industry as a contributor to growth and employment held a seminar to highlight the potential of the sector in Northern Ireland. It was one of a series of events held by TheCityUK in a number of key locations in the UK.
Speaking at the seminar, held in the Titanic Quarter, attended by the Minister for Enterprise Arlene Foster, representatives of parties in Stormont, and leading figures in the NI industry, the Secretary of State for Northern Ireland Owen Paterson MP said: "From venture capital to bank lending; from opening up government procurement that helps firms to expand, to cutting back the bureaucracy that can get in the way of their growth - we intend to do all of those things. I also want to devolve the power to set the rate of Corporation Tax to Arlene Foster and her colleagues. I remain convinced that this measure could be transformational for Northern Ireland in helping to rebalance the economy and help move it away from one dependent on the public sector to the place where the world will want to come and do business.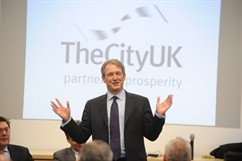 Owen Paterson MP
"Being a pro-growth Government means we have to make sure that all of the Whitehall machine - not just the Treasury and the Business Department - but the whole of the government machine is geared up to boost enterprise. Of course we also need to make sure that our efforts in Whitehall dovetails with those in Stormont and that is why I and my officials work closely with Arlene and her team in DETI and Invest NI. Because we are all on the same team - we are batting for Northern Ireland and for its people so next week when I shall be in the USA for St Patrick's week, I shall be telling folk in Washington, New York and Chicago about everything Northern Ireland has to offer."
Chris Cummings, CEO of TheCityUK, said:" Northern Ireland is home to one of the UK's most significant regional financial services centres, employing 30,000 people - with 10,000 jobs in Belfast alone. The city is rebuilding its fortunes from its successful decision to target financial services skills and has seen companies such as Citi locate there. In doing so, Belfast is attracting a cluster of firms that support financial services including Allen & Overy and Herbert Smith. Each year 600 law graduates come out of the two Universities and now these highly skilled graduates have an opportunity to find work locally rather than moving away. In the shipyard that once built the Titanic new, high value, jobs are being created. Northern Ireland is working hard to encourage international businesses to maintain and grow their UK presence, safeguarding jobs from Belfast to Birmingham to Bournemouth."