The asset management industry is at a critical juncture in its history. After a decade in which fee compression and the growth of index investing have driven sweeping change, these shifting economics are now converging with the relentless advance of regulation and disruptive technological breakthroughs. In response, asset managers are investing in innovation and reinvigorating their products and processes.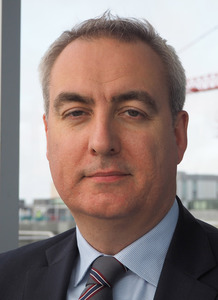 But where and how are they investing for the future?
Accenture conducted a survey earlier this year in conjunction with the Investment Company Institute (ICI) - the leading association representing regulated funds globally, with the aim to uncover how asset managers are reinventing their operations. Survey respondents represented approximately $15 trillion of the industry's assets under management (AUM) at the end of 2018.
The report concluded that only by developing a strategy fit for a disrupted world and then creating an operating model to deliver on that strategy can firms thrive. Asset managers accordingly must set the goal of blending profitability with organisational flexibility, which requires targeted change management and a commitment to embrace disruption.
Unique snapshot of an industry in transition
The insights cover the full spectrum of issues facing operations leaders - from improving growth and efficiency to harnessing emerging technologies, from managing legacy technology to optimising talent, and more.
The research shows that 42 percent of operations executives surveyed believe their operations and technology are not configured to adequately execute the firm's overall strategy.
Rising to the challenges
Asset managers' responses are mainly focused around three areas: strengthening the front office, enhancing client engagement and rethinking their technology and operational support models. Operations leaders have a high degree of responsibility for these initiatives—and an opportunity to be an important partner in bringing their firm's strategic goals to life.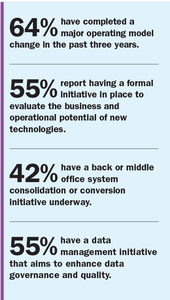 The survey reveals that efforts to address all of these issues are underway:
Calling for disruption across the investment life cycle
As operations leaders continue with these programs, they're simultaneously leading the calls for disruption of many functions across the investment life cycle.
Accenture's Capital Markets Vision 2022
report highlights how industry utilities could play a role in disrupting some key processes - and respondents to the operations study agree. Top candidates for disruption in operations include data management (66 percent), collateral management (22 percent) and clearing and settlement (18 percent). Respondents accept that disrupting these areas will require cooperation across the ecosystem - between asset managers, service providers, exchanges and more—together with a "capacity for disrupting innovation" in operations. This capacity must include an ability to leverage new technology solutions, and a number of leading firms are already experimenting with technologies like artificial intelligence (AI), distributed ledger technology and robotic process automation (RPA).
Further findings from the survey include:
Transforming talent in operations
With the innovation imperative in mind, asset managers are increasingly recruiting business-focused technology skills. Going forward, different skill sets will be required to drive innovation and protect asset managers from disruption. Zeroing in on changes in the required skill sets, the research confirms that asset managers are aware of the need to transform talent in operations.
Emphasised in the findings is that a crucial aspect of reinventing operations is people. The human element must evolve, alongside technology, to support the back and middle office.
New strategy, new operations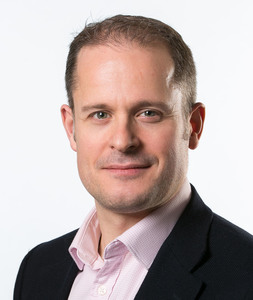 Overall, the Accenture study shows that asset managers are actively disrupting and reinventing their operating models and skill sets to win out in a disrupted future. Their ultimate goal is to blend profitability with organisational flexibly. Those firms who actively embrace disruption will be the best placed to achieve it.
Most frequently cited operational challenges identified:
1. Supporting complex securities and transactions
From transaction execution to confirmation, accounting, valuation and lifecycle support, complex securities and transactions test the limits of many back and middle office operations.
2. Data: good governance and clean data enable analytics and automation
Firms aggregate, analyse and deliver data, but the most important thing a firm can do with data is trust it. As firms aggregate and use data from a growing range of sources, the recurring challenges of data management—quality and accessibility—are heightened. Good governance and clean data can enable analytics, automation and robust reporting for downstream consumers, not to mention instilling confidence.
3. Legacy technology's role in disruption
A major challenge for many firms is dealing with legacy systems that limit growth and scalability due to manual processes. It is no surprise that many firms are busy at work replacing these systems with new interoperable platforms; 42 per cent of survey respondents indicated that they have a back or middle office system consolidation or conversion initiative in place.
Key research findings:
• There is widespread acknowledgement that operations must change radically to support firms' evolving strategies.
• Operations leaders are responding to the need for change by calling for the disruption of several aspects of the investment lifecycle and are taking steps to transform their own operations.
• To do this, they're taking concerted action to update their operating models. The majority have completed a major operating model change in the past three years, with the primary focus being process improvement.
• There's also a strong consensus that the workforce must evolve to support the evolution of firms' operations. Many asset managers are defining new skill requirements and refining their recruitment methods to obtain the talent needed for future success.
While the challenges and responses differ depending on the size of the firm, what is certain across the industry is that operations leaders are responding to this ever-evolving landscape.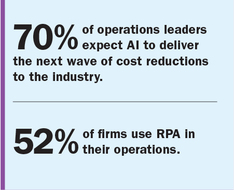 Committing to a future of perpetual reinvention
Reviewing the research findings, it is clear that many asset management firms are moving to address the market pressures and competitive forces in the industry. Ultimately, they understand that the best way to prepare for the future is to create it. Thus, forward-thinking operations leaders are acting to reshape and reinvent their operations and evolve their talent for a disrupted world.
About the research
The study was sent to members of the ICI Securities Operations Advisory Committee, which is made up of senior operations leaders. It sought to understand the current trends, challenges and initiatives in asset managers' back and middle offices. The survey received responses from 33 asset managers accounting for around $15 trillion in AUM as of December 2018.
This document makes descriptive reference to trademarks that may be owned by others. The use of such trademarks herein is not an assertion of ownership of such trademarks by Accenture and is not intended to represent or imply the existence of an association between Accenture and the lawful owners of such trademarks.