Meliosa O'Caoimh, Ireland Country Head, Northern Trust
: We have seen significant growth in the past year across both traditional and alternative asset classes, but quite specifically in private capital. Demand for alternative assets continues to grow as they can offer investors some insurance against market fluctuations such as from interest rate movements or the impact of geo-political events on markets, compared to traditional equity assets.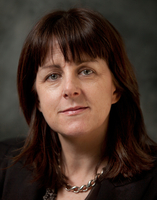 Our experience is that many asset managers are responding by expanding their strategies to launch private capital products in parallel to their traditional businesses. Asset managers, especially the larger ones that have historically been active mainly in the traditional space, are increasingly looking at launching private equity products at some scale – and at adding access to these funds for their clients to enhance the diversity of their offering.
In order to access the market and expedite their entry, they are leveraging outsourcing partners such as Northern Trust, who can provide them with an established asset servicing infrastructure and global operating model that address the growing complexities of managing alternatives.
Siobhan Moran, Head of Client Coverage, Ireland, RBC Investor & Treasury Services
: Individual investors are attracted to the potential for alternative investments to provide above-average returns in the context of significant public market volatility and portfolio diversification. At the same time, asset managers are seeking to broaden their client base in a highly competitive environment. The expansion of retail access to private markets provides an interesting opportunity and this increased focused on the retail market is confirmed by a poll conducted by PERE, indicating that 53% of alternative fund managers expect retail investor to account for a larger proportion of their assets under management over the next five years. (PERE, Regulation & fund domiciles survey, October 2021)
New technologies in particular are making it easier for individual investors to participate in the alternative investment arena. These technology providers build white label technology solutions for alternative managers or serve as an aggregator to bring retails investors to the manager. As a result, this creates a secondary market, allowing investors to buy or sell funds through their platforms.