Career background:
After graduating from the Economics Department of Bosphorus University in Istanbul, Turkey in 1997, I started to work as an assistant investment analyst at Isbank Capital Markets Department International Custody Division. In 2001-2002, through a scholarship from the British Council and the Banks Association of Turkey, I completed a Masters of Finance at the University of Glasgow.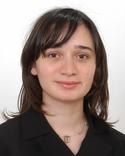 How long have you been in your current position?
Since November 2003, I have been working as coordinator of Is Dublin Financial Services plc, a subsidiary of Isbank.
How did you come to work in Ireland?
My managers asked me if I would be interested in working at Is Dublin Financial Services plc, a subsidiary of Isbank and I said 'yes' right away, because I had a wonderful year at Glasgow, Scotland during my Masters, and I was expecting Dublin to be quite similar to Glasgow.
What's the best thing about being located in Ireland?
I like the general atmosphere in Ireland where people are friendly and they have time to make small jokes, an informal chat or small things such as holding the door for you or saying thank you when you do. I find it very enjoyable and comfortable to live in Dublin, it is not like a big city so you don't get tired when trying to do something (especially in my case where my office and home is at a walking distance) on the other hand, Dublin is big enough, it is very international, it has many things going on such as concerts, movies, performances.
What's the worst thing about being located in Ireland?
Being far from family, friends and all the things at home.
How does the work culture in Ireland differ to that in your home country?
In Turkey, working overtime is quite common; as much as I can see, here, it is seen as extraordinary, which is the way it should be.
How is the sector in which you work in Ireland, different to that in your home country?
I like the general focus and commitment here to make sure that Dublin continues on its way to be an important financial centre. I also find it very welcoming that business people are approachable, this makes my experience here much more rewarding.
From an international perspective, how would you rate Ireland as a financial services sector?
I guess, in terms of scale Dublin could be considered small in comparison to some other major financial centres. On the other hand, I find the development and the commitment to be a center for chosen niche markets quite amazing.
What's your favourite place in Ireland and why?
I very much like the corner of Merrion Square where the Oscar Wilde statue is. It is nice to watch its relationship with the people walking around during different hours of the day.