The aim of WIBF is to provide a business forum for women in the financial services sector to meet, share experiences, develop themselves, and develop others. Membership is not exclusively for bankers or for women. The organisation offers members opportunities for networking and sponsored courses, training and extra-curricular activities.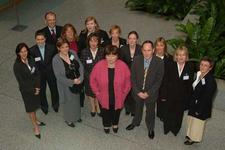 Speaking at the launch of the association on Tuesday, 5 October, at Citigroup'€ôs Offices in the IFSC, the T√°naiste, Mary Harney, T.D., spoke about women'€ôs increasing role in Irish business and public life, commenting that although women are beginning to move into more senior positions, their representation at the top is still too low. She endorsed the initiative saying, '€ėI see the WIBF as a place where women in the industry can network, find role models and build confidence together and in that way enhance the position of women in the industry'€ô.
WIBF will be running a number of events and opening its membership with an official launch in 2005.
For more details see:
www.wibfireland.com
.