Speaking to
Finance Dublin
in an interview, on the launch of the Action Plan 2002 for the medium term strategy, originally covering the period to 2025, for Minister for State Sean Fleming said "we're now commencing a review of our entire strategy that commenced in 2019. Minister Donohoe and I feel it very appropriate because everything has evolved. And we want to look beyond where we were in 2019 when that plan was drafted".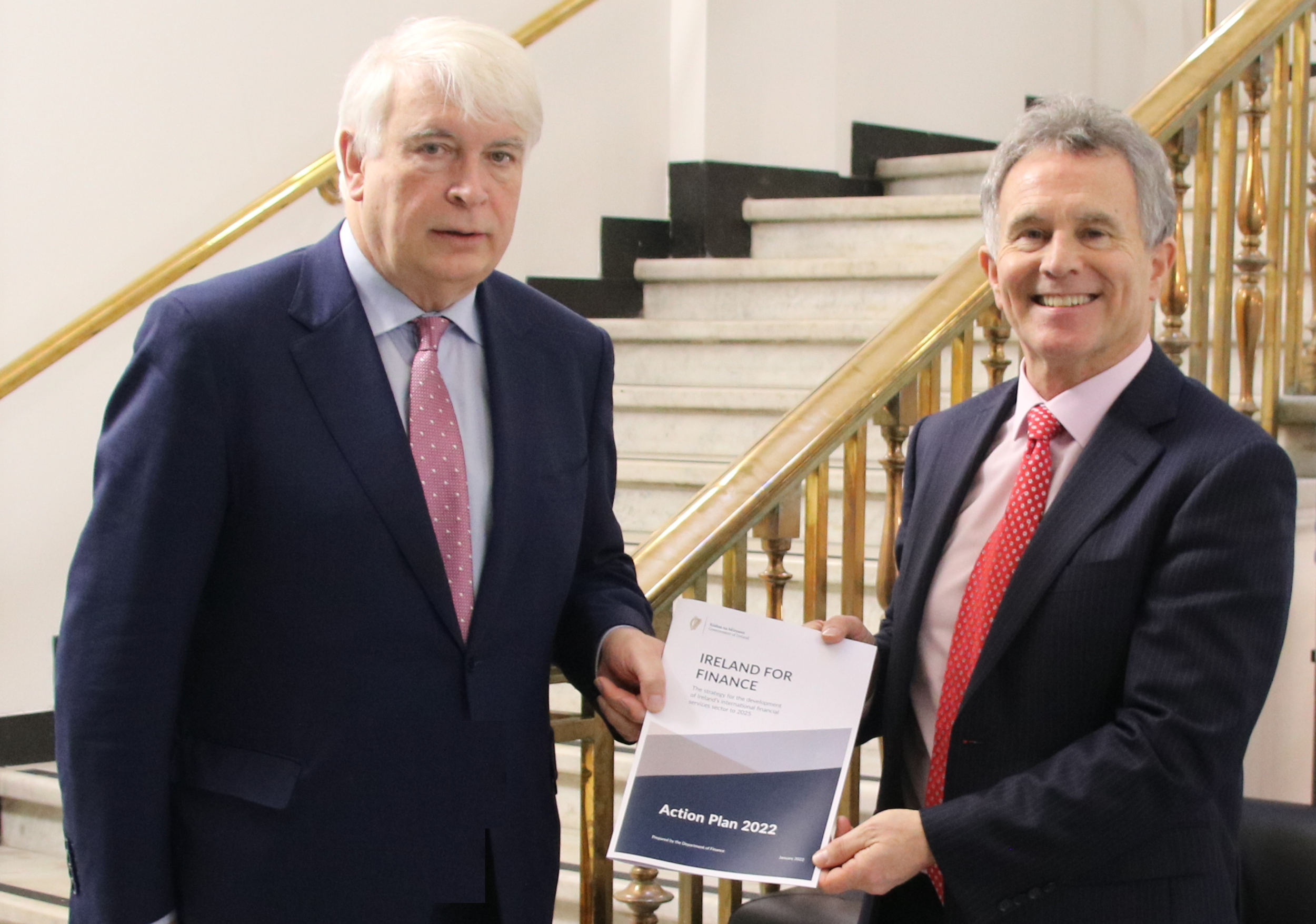 Following the publication of the mid term review of the strategy in its
IFS Action Plan 2022
, he said that it will be "all heads down to work on an entire review of our strategy given that we are half way through, and maybe take the strategy not just to 2025, which is not much more than two years away when you think of it, but maybe on for a further period.
"So, we will have a major build on what we've achieved. There will be significant changes in emphasis, like the things I've mentioned, the Sustainable Finance, and the Fintech elements, which always been there, and which will be in the years to come".
The IFS Action Plan 2022, published
earlier this month
has been revised and streamlined, focusing on five major themes: 1) 'Sustainable Finance' (an area that is being proiritised, with emphasis particularly, the Minister said, on developing the substantial energy resources off Ireland's Western and Southern coasts; 2) Fintech and digital Finance, to include 'insuretech' and 'instech', 3) Diversity and Talent, with detailed mention of numerous initiatives on the educational and inclusivity fronts; 4) Regionalisation and Promotion, and Theme 5) 'Operating Environment'.
The Report also features a number of new elements, which are likely to feature more prominently in the mid term review of the strategy that will appear in mid year. Minister of State for financial services at the Department of Finance Sean Fleming TD's interview will be published next week in
Finance Dublin
along with analysis of the mid term review strategy coinciding with the publication of the Government's mid term review 'Action Plan 2022' of the 'Ireland for Finance' strategy 2019-2025.
Key elements of this review are referenced in the Action Plan and in statements at the European Financial Forum on February 17th hosted by IDA Ireland, which also featured policy comments on financial services strategy, both domestic and in the IFS sphere from a range of speakers, including the Taoiseach, the Minister for Finance and eurozone President, Paschal Donohoe, the Governor of the Central Bank, the Chief Executive of IDA Ireland, Director-General Financial Conduct at the Central Bank Derville Rowland, as well as the EU Commissioner for financial services, Mairead McGuiness MEP, and recently appointed head of ESMA, Verena Ross.