At Northern Trust, we invest significantly in our people, seeking to ensure that their skill set is up to date and supporting them to understand our products and processes so that their work is more meaningful, and the customer interacts (directly and indirectly) with a well-informed employee. We've been a major client of the Institute of Banking (IoB) since they developed their suite of funds programmes in 2012 and I was delighted to take on the role of Deputy President last year and to lead IoB as President in 2019.
During that time IoB launched an exciting new Strategy which will see a total transformation of how it interacts with its 33,400 members, using cutting edge technology and a data driven personal experience. As well as its continuous review of popular offerings such as the Professional Diploma in Applied Alternative Investments, IoB has been building new exciting modules, targeted right across the financial sector including two programmes on culture and specialised digital programmes, such as The Professional Diploma in Digital Transformation in Financial Services.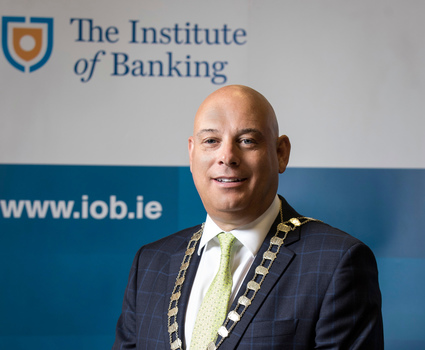 IoB continues as a recognised college of UCD for its accredited programmes and is also building non-accredited offerings – for example the popular Certified Investment Fund Director, CIFD.
I'm particularly excited about IoB's move to raise standards across the funds industry by offering a new programme of continuous professional development for those working in the funds industry. Access to the programme will be through a 'designation'.
The designation, developed with support from Irish Funds will be available to industry professionals who have completed the benchmark industry qualification, The Professional Certificate in International Investment Fund Services, a three-module, level 7 programme, accredited by University College Dublin. Designates will agree to meet an annual continuing professional development (CPD) requirement. In addition, for a period of one year, those who have over four years relevant experience and who meet the programme competencies through industry experience, will be eligible to apply for the designation.
This benchmark programme has been a core industry qualification for almost two decades and has been completed by over 6,000 industry professionals. The programme has a strong practical focus and covers the key topics relevant to the international funds sector. It is delivered via blended learning supported by online webinars and face-to-face workshops. Assessment is on a continuous basis throughout the programme and it can be completed in one academic year.
I would encourage leaders across the industry to embrace the new designation for their employees. Significant participation will distinguish the Irish funds industry amongst its global peers and will further differentiate Ireland as a leading fund services jurisdiction with a continuously learning professional workforce. This will sustain Ireland's world ranking for its people talent and professional standards as standout competitive advantages.
For employees, the designation will demonstrate funds expertise, client focus and professionalism. It will provide recognition of professional standing in the industry and the commitment to lifelong learning.
Management of the designation by IoB will be enhanced by a new blockchain- enabled platform currently under development. The rapid change and transformation in the IFS sector will see new roles emerging enabling organisations to redeploy employees to higher value roles, augmented by smart technologies. To sustain a career and compete for these new roles, structured lifelong learning will be fundamental to the individual and the new designation will support them in demonstrating this commitment, ensuring that those starting out in their career and those working in the sector for many years all have opportunities to progress. Individuals will have an easily accessible digital wallet or app containing all their educational qualifications, professional designations, CPD and completed lifelong learning.
The designation fulfils an action set out in Ireland for Finance 2025 which has talent as a pillar, seeking to ensure that we continue to have skilled people to meet the demands of the IFS sector, including meeting new and changing skills. Northern Trust employees currently study the Professional Certificate in International Investment Fund Services in Dublin, Limerick, Manila, Bangalore and Pune. I'm committed to supporting all employees who are eligible for the new designation to join up at the launch and to visibly demonstrate our commitment to high standards to our clients, regulator and broader stakeholders. I see this as an exciting opportunity for Ireland to lead the way.