This was Santander Consumer Finance's seventh static cash securitisation of Finnish consumer auto loan receivables. The underlying portfolio comprises 44,090 hire purchase agreements for new and used vehicles granted to 43,569 borrowers distributed through dealers to private individuals (90.4 per cent) and self-employed commercial borrowers in Finland.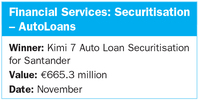 Kimi VII was structured as a true sale securitisation using two Irish section 110 entities with one SPV (SCF Ajoneuvohallinto VII DAC) acquiring the legal and beneficial interest in the underlying portfolio of consumer hire purchase agreements using the proceeds of a loan from another Irish SPV (SCF Rahoituspalvelut VII DAC). The issuer financed the loan to the purchaser by issuing the notes to the market.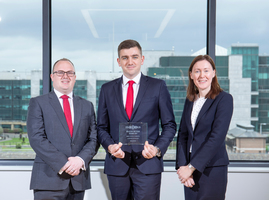 Importantly, for Ireland's reputation as a leading centre of excellence for debt capital markets and securitisation transactions, this transaction was another high profile and big ticket issuance which utilised the Section 110 securitisation regime. The deal included some novel and on-trend features, particularly in relation to its amortisation structure.
While demonstrating SRT is typically easier for synthetic securitisations, because third party investors bear the losses on the underlying portfolio via a risk transfer contract without the benefit of an synthetic excess spread (e.g. a credit default swap or financial guarantee), it is more challenging in a true-sale model. Under the novel terms of the Kimi 7 deal, tranches amortise sequentially up to a certain point and they then switch to pro-rata amortisation. However, if losses reach certain levels, then the transaction switches to sequential, safeguarding the transaction from the possibility that credit enhancement is too quickly amortised as the credit quality of the transaction deteriorates, impairing the actual extent of risk transfer throughout the lifetime of the transaction, as stipulated by the EBA's discussion paper on SRT.
Kimi VII was executed for liquidity purposes and it has also been reported that the transaction was structured as a significant risk transfer (SRT) trade, allowing the Originator to achieve regulatory capital relief.