This deal involved the establishment of a platform to acquire a portfolio of narrow and widebody aircraft on lease to airlines.
Airborne Capital is a specialist aircraft lease and asset manager which acts as a bridge between investors seeking bespoke investment in the aviation space and aviation participants requiring financing via differentiated capital solutions. In the context of acting as a bridge between investors and consumers of capital Airborne will deploy the significant experience of its management team in setting up and managing innovative investment and fund platforms for investors globally.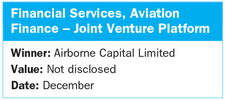 Equity capital of circa $250 million was committed, in addition to significant volumes of committed senior bank financing. Citi provided structuring advice and analytics to Airborne on the transaction. Walkers also advised on the deal.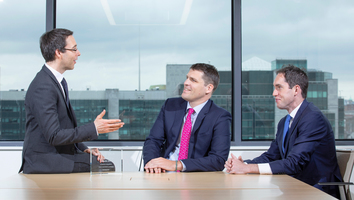 Airborne Capital Limited will be the asset manager and lease servicer. The deal is noteworthy as it provides an example of an international investment business working strategically alongside those with detailed aviation knowledge to deploy capital into the sector, Walkers said. It emphasizes the growing attractiveness of the sector to non traditional lenders and those capital providers chasing yield.
The deal is also noteworthy as it identifies that there is a market in the sector for a platform that will provide a bridge between sources of non-traditional capital and the consumers of such to acquire aircraft.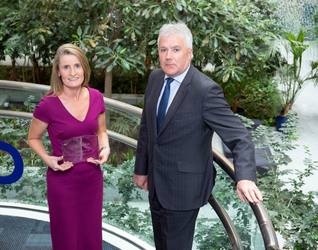 This transaction is one of many that affirms Ireland as the preeminent hub for aircraft leasing and aviation finance.
As with most deals there is a desire to close a transaction quickly in order to commence revenue generation as soon as possible. This was so in this transaction, in addition to the pressure to acquire the right seed portfolio of aircraft which had been identified and which needed to be acquired prior to a competitor platform purchasing them.
The deal demonstrates the attractiveness of the aviation sector to non traditional aviation enterprises who see acquisition of aircraft assets as a long-term and diversified investment strategy. "We see this investment strategy regularly with, for example, North American private equity and hedge funds. The Airborne platform provides market access to a complex aviation asset class. The commercial aviation industry is predicted to double the size of its fleet in the next 20 years on the back of growing passenger demand (4.7 per cent per annum until 2036). This growth is triggering a financing need that will not be covered by traditional sources of capital. The establishment of Airborne Capital is significant in providing solutions to fill this gap and offering its expertise to new capital providers meeting the aviation industry's growth needs. Transactions such as these continue to promote Ireland as the preeminent hub for aviation leasing and financing.