A&L Goodbody advised CALC as its Irish counsel on its establishment of an international investment vehicle for aircraft leasing – CAG which will have an initial seed portfolio of 18 aircraft.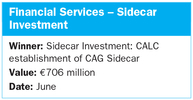 Three Chinese State-Owned enterprises (SOEs) provided mezzanine finance via shareholder loans to CAG which is further complemented by senior syndicated financing from a number of well-known international and Chinese banks.
This is an important strategic move for CALC amid its transition towards an asset-light business model for supporting its continuing global expansion, whilst further enhancing the professional development of its aircraft asset management capabilities. CALC is a one-stop aircraft full life-cycle solutions provider for global airlines and is listed on the Main Board of the Hong Kong Stock Exchange with a fleet of about 115 aircraft and is one of the top 10 global aircraft lessors.
"A&L Goodbody is delighted to have advised CALC on this important transaction for CALC and for the industry", said Marie O'Brien, Aviation Partner and Head of China Business Group, A&L Goodbody