In 2018, as part of an objective to achieve an investment grade rating, Avolon targeted and brought ORIX Corporation on board as a shareholder. A leading Japanese financial institution and an experienced investor in the leasing sector, ORIX has a strong investment grade profile. It is listed on the Tokyo and New York Stock Exchanges and joins Avolon as a strategic, long-term investor, said Donna Ager, head of the Maples Group's European Aviation team. "The deal involved a €2.2 billion stake for a minority stake and involved numerous jurisdictions (Japan, China and Ireland) and resulted in Avolon's credit ratings being upgraded by S&P and Moody's," said Ms Ager.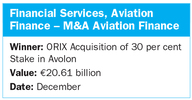 "The deal was fast moving but was slowed slightly by regulatory approvals. The transaction involved Orix obtaining an understanding of Avolon's entire business and thus due diligence was conducted on all material contracts. This required disclosing confidential information in a limited pre-approved manner and for the Maples Group to oversee the disclose and management of the information, to ensure it was viewed and used in accordance with agreed/approved procedures."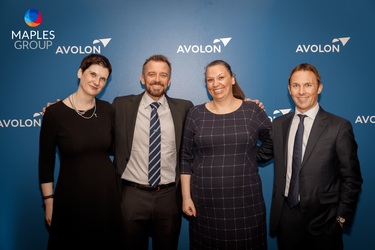 The acquisition of a 30 per cent stake by ORIX, implying an Avolon enterprise value of $23.7 billion, is the largest ever Japanese investment in an Irish founded company, and the largest ever investment for a minority stake in a leasing company. The deal was announced on the 8 August 2018 and completed on 5 November 2018 and built on Avolon's proven track record of partnering with leading global financial institutions as shareholders. The addition of ORIX to the shareholder base enhanced Avolon's corporate credit rating and represents significant progress towards a key corporate objective of an investment grade rating – central to reducing the cost of debt which is core to the long-term success of any asset finance business. The transaction also resulted in the upgrading of corporate credit rating at Fitch Ratings, Moody's, S&P Global Ratings and KBRA – all with a positive outlook.
The transaction also created the opportunity for increased collaboration with ORIX as it has established an extensive network of aircraft equity investors, particularly in Japan. This increased collaboration, coupled with ORIX's experience and extensive relationships, will help to continue to build on Avolon's financial strength and industry franchise. The deal will further enable Avolon to supply aircraft into ORIX's distribution channels, further complementing Avolon's existing aircraft trading activities including its JV with China Cinda.
At the end of 2018, Avolon was well positioned to pursue further growth opportunities, either through M&A or organically.