The December 2018 $379.4 million Kestrel Aircraft Funding 2018-1 represents Dubai Aerospace Enterprise's (DAE's) third asset backed securitisation (ABS), which is secured on a portfolio of 18 aircraft – seven A320-200s, four 737-800s, two A319-100s, two ATR 72-600s, one A330-200, one A330-300 and one A321-200. Title to 15 of the total 18 aircraft in the Portfolio will be held by Irish incorporated subsidiaries of Kestrel Aircraft Funding Limited. The initial weighted average aircraft age was 8.9 years with a weighted average remaining lease term of approximately 4.5 years. The aircraft are on lease to 15 lessees located in 13 countries and the portfolio has an aggregate maintenance-adjusted current market value of approximately $470.1 million. DAE acts as servicer for the portfolio.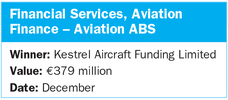 The portfolio was financed by way two series of notes issuances (Series A Notes and Series B Notes) by the Issuers comprising of $319.8 million Series A Notes, with an initial loan-to-value (LTV) ratio of 67 per cent, which are rated A by Fitch Rating and Kroll Bond Rating Agency; and $59.6 million Series B Notes, with an LTV of 79.5 per cent, and rated BBB by Fitch and Kroll.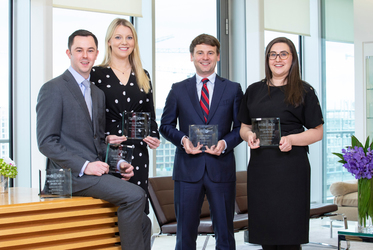 The deal included novel features such as security deposit accounts, which could be utilised to pay interest on the notes and other expenses, providing increased liquidity. The portfolio's average age of 8.9 years is also slightly younger than most recent mid-life aircraft ABS transactions and the average remaining lease term on the aircraft (of 4.5 years) is quite long, providing for less reliance on re-leasing of aircraft.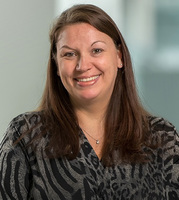 Matheson was responsible for advising on complex matters of Irish law with respect to the structuring of the transaction and the acquisition of the aircraft and / or the shares in Irish incorporated aircraft owning companies. This included provision of legal advices on matters of Irish insolvency law, tax law and corporate consolidation risk.
The Matheson team providing sole Irish legal and tax advice to the Issuers on the transaction was led by Finance and Capital Markets Partner, Rory McPhillips, and involved input from Kevin Smith, Tax Partner; Stuart Kennedy, Finance and Capital Markets Partner; Yvonne McWeeney, Finance and Capital Markets Partner; Stephen Gardiner, Senior Associate; Kevin Mahony, Associate; and Michelle Daly, Tax Associate.
Maples Group was Cayman counsel to Kestrel Aircraft Funding Ltd. and to Maples Fiduciary Services (Ireland) Ltd.