This transaction was unique in the Irish market, with Hibernia the first Irish REIT to move to an unsecured debt structure. It represents one of the largest ever financing transactions for an Irish REIT. Concluded in the last quarter of 2018, the bespoke package involved the provision of a €320 million unsecured revolving facility by a new banking syndicate comprising Bank of Ireland, Barclays Bank, Wells Fargo and Allied Irish Banks and the placing of €75 million of unsecured US private placement notes with a single institutional investor. For the US private placement, Barclays Bank and Wells Fargo acted as joint co-ordinators.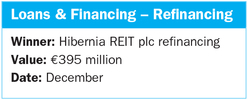 There were a number of features that contributed to making this deal particularly innovative. Both facilities had to be cross co-ordinated across Irish and US jurisdictions and the transaction involved complex and multi-faceted negotiations between Hibernia and the parties involved in both financing arrangements. Following a bespoke finance package, the first of its kind in the Irish REIT market, the weighted average maturity of Hibernia's group debt increased from 1.9 years to 5.7 years.
Commenting on the deal, Hibernia CFO Tom Edwards-Moss said: "This refinancing significantly extends the maturity of our debt and locks in longer term, low cost funding. In addition, our move to an unsecured debt structure, the first Irish REIT to do so, ensures we have access to the widest possible range of funding options in future."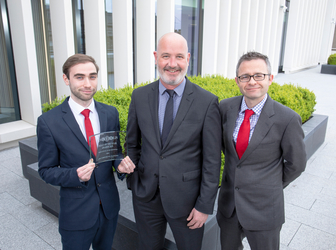 Bank of Ireland Corporate Banking's Head of Property Finance Group, Paul McDonnell, said: "Bank of Ireland was delighted to act as Co-ordinating Bank and Agent on this milestone transaction in the Irish property finance market. The Bank has been the largest lender to Hibernia since its IPO 2013 and is pleased to support the experienced and successful management team as it looks to grow its high quality portfolio. We are committed to supporting our customers in all sectors of the property market as we look to meet our ambitious growth targets.'
Ciaran Mooney, Head of AIB Commercial Real Estate, Corporate Institutional and Business Banking, said: "As Joint Arranger for Hibernia's RCF financing we were pleased to further develop our relationship with a well-regarded and important party within the Irish property market.'
Eversheds Sutherland acted as lead adviser to Hibernia REIT plc in connection with the refinancing of its existing revolving credit facilities, while the banking syndicate was advised by Matheson.