Alitalia was the first European flag carrier since 2008 that faced a possible wind-down of its business and with its headquarters in Ireland, William Fry led on the enforcement and re-leasing of 50 per cent the aircraft portfolio.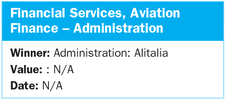 The firm advised DVB Bank S.E. in its capacity as security trustee, lender as well as other members of a bank syndicate regarding the impact of the appointment of administrators to Alitalia during 2017. This was one of the most significant appointments the firm has received to date as it recognises the firm's ability in a number of areas – asset finance, transport, insolvency, litigation, corporate and tax departments. William Fry also advised PK Airfinance SarL, in its capacity as security trustee and GECAS as lead arranger as well as a syndicate of banks, on the Administration.
It involved significant cross-departmental advice in relation to the administration of Alitalia in Italy and the impact on its Irish group of financing and leasing companies. William Fry advised all financial lessors on the Administration, enforcement and re-leasing of over half of Alitalia's aircraft portfolio.
William Fry was to the fore on enforcement strategies, insolvency advices and court remedies as well as cross-border financing solutions.