Minister of State Michael D'Arcy TD, was amongst the attendance who turned up to support basis.point in the Round Room of the Mansion House for its Annual Spring Lunch.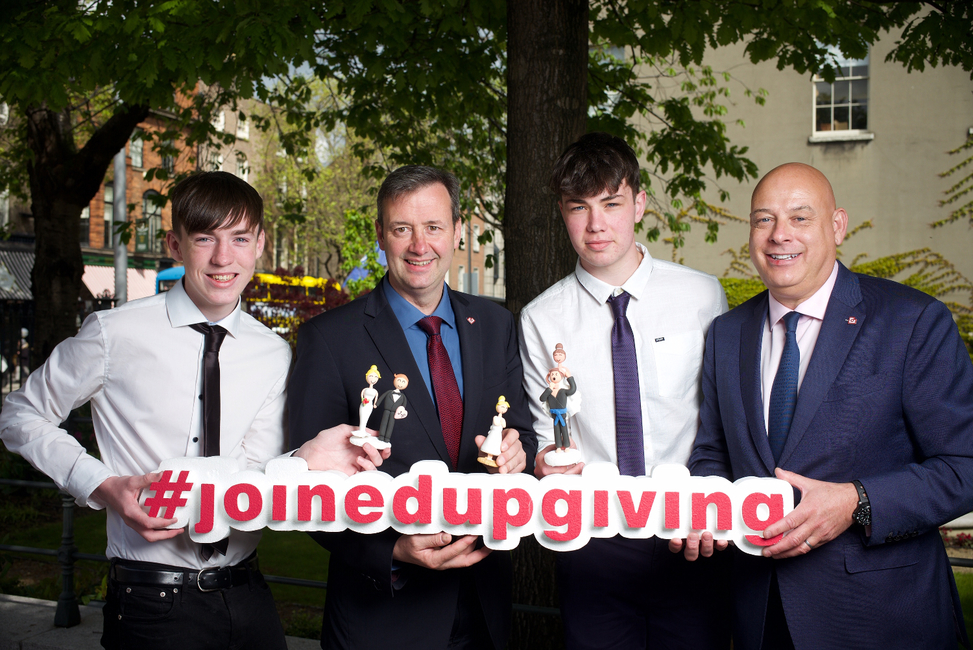 The two students from Patrician Academy in Cork, Billy Fitzpatrick and Finnian Daly, took to the podium to explain the impact that their participation in the Foroige NFTE programme was having. "It was motivating to hear first-hand how basis.point's financial support can influence young people's lives and help children from different backgrounds aspire to careers in business" said one of the supporting participants.
"No one can hold us back" the students said as they recounted what they had learned from participating in the NFTE programme. Their market tried-and-tested business is the manufacture of bespoke models, used for example on cakes for special celebrations (pictured).
Commenting after the event, the Minister of State said "It is inspiring to see the difference the Funds Industry can make, by coming together to support children in disadvantaged circumstances. It is important to shine a spotlight on such joined up giving and corporate social responsibility".
Speaking to
Finance Dublin
after the event , the Minister Michael D'Arcy said "I've been pushing individual companies to do more in terms of post primary schools, and earlier interventions; potentially there are kids living close to IFS companies all over Ireland - we can source them earlier, get them into companies earlier, get them to know the people, and into apprenticeships earlier, straight after school.
"I recently spoke to a senior executive from an Irish firm, an American guy working in Switzerland, who said that most people go through apprenticeships in Switzerland for financial services, rather then post primary, 3rd level, Masters etc. We could do things for people in disadvantaged areas who might never have the opportunity otherwise to develop careers in financial services", he said.
Clive Bellows, Chairperson of basis.point, welcomed the Minister and guests and shared highlights of the year along with a video update of the ongoing work with basis.points's partners.
Addressing the issue of continued growth, Clive Bellows noted 'As we become more experienced and gain a deeper understanding of both where the need is greatest and where we can have the highest impact, we have been able, not only to expand the geographic reach of proven initiatives but also to work together on some truly ground breaking initiatives. Most notable of which are our current partner programmes, coding initiatives with RBC and pre-school early learning intervention with BNP Paribas, where we have adapted a programme specifically to meet the needs of vulnerable families living in homelessness'.
He thanked US investment managment company John Hancock for offering basis.point a Charity Bib and to congratulate Richard Day for his trojan fundraising effort and personal commitment in running the Boston Marathon. In the first solo fundraising endeavour on behalf of basis.point, Richard has set a high benchmark, raising in excess of €56,700.
The funds raised will enable basis.point to continue to make a sustainable and meaningful difference to the lives of children challenged by emotional and physical disadvantage, by supporting our six partner charities focusing on education, he said.
The event also saw auctioneer, Sean Buckley rallying the audience to raise over €8,000 in a lively auction which featured 2 Centre Court tickets for Wimbledon's Ladies Semi Final, Rod Stewart and Ireland 6 Nation tickets.