2018 was a year of great growth and expansion for the Irish Fund Industry's charity basis.point. €1.4m, raised through individual and corporate donations, has now been committed by basis.point to six charities working for the benefit of children and young people on multi-year, evidence based educational programmes. The geographical reach of basis.point funded programmes has also expanded in 2018 to include Wexford, Waterford, Kilkenny and Galway in addition to the existing locations of Dublin, Cork, Limerick reflecting the Funds Industry's footfall throughout Ireland.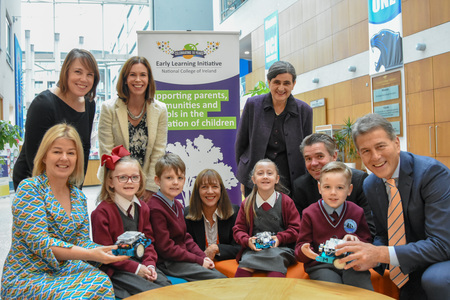 Donor support also grew in 2018. basis.point has over 400 'Patrons' and 'Supporters' representing asset managers (promoters), service providers, professional firms and individuals, and independent directors of the Irish Investment Fund and Asset Management Industry.
Joined up giving
A registered charity, basis.point is the Irish Fund Industry's initiative to come together on a "joined up giving" basis to help make a real and sustainable difference to the educational life-cycle of children and young people from areas of historical disadvantage. basis.point achieves its goal by providing grants to other registered Irish charities with similarly aligned objectives and initiatives to fund programmes that focus on education.
The six organisations funded by basis.point are Archways, Business in the Community, the DIT Foundation, the Early Learning Initiative of the National College of Ireland, For?ige and Suas.
'Supporter' programme launch
basis.point's reach expanded in 2018 with the launch of the 'Supporter Programme' in May which has already seen a significant uptake by industry professionals. In addition to the existing 'Patron Programme' with a €1,000 annual contribution, the Supporter Programme offers a new level of individual membership with a €250 annual contribution. Supporters form a very important part of the basis.point movement and benefit from volunteering options, engagement with grantees and networking opportunities
The team
Clive Bellows EVP Northern Trust took over as Chairman in September 2018 from Eimear Cowhey Independent Director. The board includes well known investment industry figures such as Declan O'Sullivan, Partner Dechert, Mike Hartwell, Partner, Deloitte, Colm Clifford, Partner, KPMG, and Independent Directors Denise Kinsella, Paul McNaughton, Fiona Mulcahy and Adrian Waters.