The final programme also crystallises attention on many of the most interesting issues, with well known industry leaders and speakers participating throughout. There will, throughout the Summit, be key, interesting, and innovative discussions that feature the most burning conundrums facing the industry - e.g. what to do around passporting for asset managers after Brexit; the design of new products, such as parallel funds to aid distribution across frontiers after Brexit, tech advances, and how wealth management, and asset management distribution technologies are coverging. Blockchain applications in funds, with an unique special on MMFs by the key players from the US (with former SEC Commissioner Dan Gallagher, and former CBI Supervisor, Aberdeen's Standard Gareth Murphy on their seminal work in the design of Europe's new MMFs regulatory framework being implemented this year, chaired by William Slattery, himself a former regulator).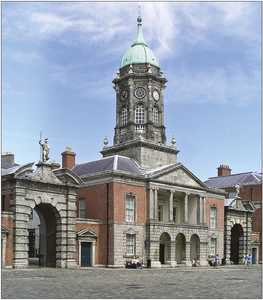 The year ahead will be important for the Irish Funds industry, with Brexit and developing business and distribution opportunities in mind particularly. The future is very bright for the Irish funds industry, we believe, notwithstanding the challenges that exist - e.g. in the areas of competition, because the fundamentals for overall growth are there, for those who can plan for them. The Summit is being held with a positive solution-focussed outlook (for example in the sessions at 11.00 am and 14 .00 - see below) - and accordingly we would be delighted to see you there.
See below our Delegate Guide for Investment Funds at the Plenary Session of FCSDublin:
09:00 a.m. Plenary Session: Finance and Financial Centres, the outlook to 2025 and beyond
Keynote -
"Brexit and the Financial Services Industry" - How Investment Funds and Asset Managers should be preparing

William Slattery,
Chief Executive Officer - International, DST Financial Services at DST International Holdings Ltd; and Chairman of International Financial Data Services.
Keynote -
US perspectives from the SEC - regulating the underlying securities in funds - and European-US relationships after Brexit e.g. MMF assets, and cryptos - important in developing global markets and powering distribution

Dan Gallagher,
Former Commissioner, Securities & Exchange Commission, USA, and director of ISE prior to its acquisition by Euronext this year
10.00 a.m. Fintech, Funds, the CBI'S digital agenda, Wealth Management and Custodial Perspective
Keynote -
"The need for resilience in the face of disruption: Regulatory expectations in a digital world."
Ed Sibley
, Deputy Governor of the Central Bank of Ireland.
Case Study:
- The story of KBC Bank's digital retail bank in Ireland, and future plans, which include funds distribution:
Darragh Lennon
, Head of Distribution, KBC Bank.
Presentation:
'Digital Advisory: Digital meets and needs human'
Wealth management and Asset Management - points of convergence through technology
Peter Schramme
, Chief Business Development Officer, Objectway Group.
Regulatory 'Sandboxes' - getting the balance right to encourage innovation in jurisdictions while avoiding the dangers of 'picking winners'

'Customising Custody' - the use of big data and AI to enhance Investment fund decision processes

The role of fintech in enabling 'democratisation' through new product models in savings and pensions

'Fundtech'

Blockchain in Asset Management
Panel Discussion with:
Panel Member:
Adrian Whelan, Senior Vice President of Regulatory Intelligence, Brown Brothers Harriman.
11.00 a.m. Regulatory Frameworks in Asset Management & Funds post Brexit
Panels
1.
Fund Management Delegation arrangements in a post Brexit World - a key issue for the UK's asset management industry
2.
Regulation and marketing interfaces, referencing ETFs and Money Market Funds
Session Topics will cover :
Passporting in Asset Management and Investment Funds administration in Europe, post Brexit

Case Study: the US and EU experience in developing a fit-for-purpose Money Market Funds regulatory framework.
Moderator: William Slattery, Chief Executive Officer - International DST Financial Services.

Participants
Tara Doyle
, Partner, Financial Services Group, Matheson, and outgoing chair of Irish Funds
Ian Headon
, Senior Vice President, Product Development Alternatives, Northern Trust.
Gareth Murphy
, Chief Risk Officer, Aberdeen Standard Investments.
Dan Gallagher
, Former SEC Commissioner, USA; Chief Legal Officer, Mylan Inc, Former CEO of Patomak Partners LLC Washington DC.
Fergus McNally
, Partner, EY.
12.00 hrs - Financial Related Professional Services Business Development Opportunities for Ireland after Brexit

Keynote Case Study Presentation:
Ireland as a Common Law Jurisdiction in EU27 after Brexit - the opportunities


Paul McGarry SC, Outgoing Chair, Bar Council of Ireland


Topics will list fund and asset management-related opportunities, for example, credit funds
Participants include:
Paul McGarry SC
, Outgoing Chair, Bar Council of Ireland
Christian Donagh
, Partner, Matheson
Edward Nalbantian
, Partner, Jones Day
Philip Hackett QC
, The 36 Group, who has been described as the world's leading expert Barrister in money laundering.
14.00 hrs - Asset Management & Investment Funds; product development and distribution
Topics Include:
ETFs: the future

Using custody data to deliver enhanced granular insights to portfolio managers

Technology

Active and Passive frontiers - the future, and the products that will shape it

Regulation and distribution

Anthony Stevens
, Head of Asset Servicing Product Innovation, EMEA
Northern Trust
Nicholas-Blake-Knox
, Partner, Walkers, and former Senior Legal Counsel of PIMCO's EMEA funds business
Mike Byrne
, Chairman, the Jersey Funds Association
Lisa Kealy
, Partner, EY
15.00 hrs Global Financial Services Centres: Global Financial Services Centres: Focus on key drivers in markets - Sector Focus, Brexit and after
Participants Include:
Tadhg Young
, Senior Vice President, Head of Global Services Ireland and the Channel Islands, State Street
Kieran Donoghue
, Head of International Financial Services, Corporate Strategy and Public Policy, IDA Ireland
To see the full Programme for FCSDublin 2018, please click here.

FCSDublin 2018, on October 2nd and 3rd, is hosted and produced by Finance Dublin is a very important event to attend and be represented at. Delegate booking details can be found here. (CPD Points certificates will be issued for delegates).