5:45 a.m.
I wake up early on my farm just outside Ballina in county Tipperary, where I live with my husband and four children. I get ready for the day and have breakfast with my husband, Eugene, while catching up on the news of the day online and checking my emails for any urgent items.
6:50 a.m.
I drive to work, listening to Newstalk. Given Northern Trust has two offices in Limerick, Hamilton House and on City Plaza, I usually spend every other day catching up with colleagues in either office. Today, I'm spending most of the day at our Hamilton House office, in the Technology Park, surrounded by green lawns which make for a great setting in Ireland's summer months.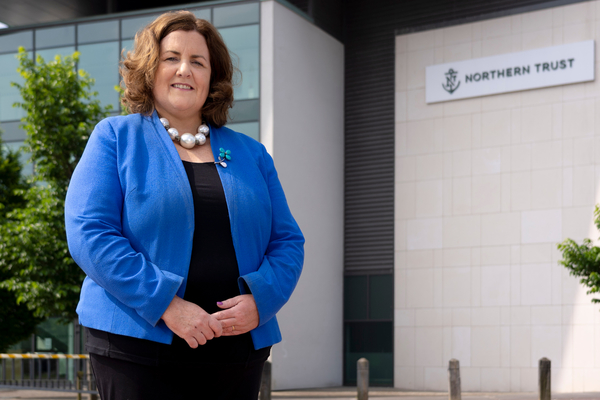 7:15 a.m.
I arrive at the office and catch-up on any follow-ups to emails that have come in overnight from our head office in Chicago before preparing for my monthly board meeting with the Limerick Chamber of Commerce. The meeting is held in their offices in the busy city centre, close to the River Shannon, so I set off after an hour in the office to drive to the meeting.
8:00 a.m.
The first 10 minutes of the meeting are spent networking with the 20 board members, including its president, Dr. Mary Shire, as well as partners and managers from PwC, Deloitte, Shannon Group, University of Limerick, Limerick Institute of Technology and Bank of Ireland.
The meeting then begins, with a discussion about retail and small medium enterprises in Limerick and how to best position the city's businesses, to encourage investment and growth. Most recently, our board successfully lobbied for the construction of a motorway between Limerick and Cork which is now included in the national governments 10-year Capital Development Plan. The motorway is expected to be completed in 2027 bringing significant reductions in journey times between the two cities.
10:30 a.m.
Once the board meeting is over, I drive back to Hamilton House for my daily catch-up with my boss, Clive Bellows, head of Northern Trust's Global Fund Services (GFS) EMEA. Clive is based in Dublin but often visits the Limerick offices. We share updates on the business and ongoing projects, such as the development of our fund accounting innovation lab which is deploying emerging technologies on our global platform.
We also discuss recruitment. Our two offices in Limerick house more than 1,300 employees and continue to grow - last year we announced we'll be adding up to 400 jobs over the next five years. We are extremely proud of the growth of our Irish business but we are constantly looking for new initiatives. We are committed to providing more opportunities in the local area, as often financial services can gravitate towards Dublin, but we believe Ireland as a whole has a lot more to offer.
11:00 a.m.
Following my meeting with Clive, I get together with the graduates on Northern Trust's rotational development programme for our monthly update meeting. The programme, which we have been running for six years, offers recent graduates an opportunity to work in different business areas on a four-month rotation, with the aim of securing a job in their preferred area. It's rewarding to see how the graduates progress and develop throughout their careers.
Currently we have two graduates from the University of Limerick and two from the Limerick Institute of Technology – key partners of ours in the region. The programme began with a training course in Chicago and also includes a week in Dublin, so it enables the graduates to really integrate and meet colleagues across the business and develop their skills.
In our meeting we discuss their learnings from their previous rotations, their observations and impressions of their current rotations and review any opportunities they are looking forward to in their next placements.
12:00 p.m.
I head downstairs to our staff canteen with my colleague Mick O'Sullivan, head of custody services in Ireland, for a working lunch. At Northern Trust we encourage our employees to take a break and the canteen, which serves hot and cold meals, is a popular place for our employees to take that time out – perhaps to lunch with other colleagues or read a book.
The canteen is buzzing today and as I walk across, I spend a few minutes connecting with employees before sitting down with Mick. We discuss recent challenges and new opportunities in our respective areas and plans for the business. We then go for a short walk outside to catch some fresh air, passing colleagues sitting on the lawns outside, before heading back inside the building.
Northern Trust is committed to supporting a work life balance for all our employees and aside from encouraging employees to take a break at lunch, we also give each permanent employee two paid days out of the office to participate in a corporate volunteering activity. We also have a vibrant sports and social committee and as I return to my desk I pass the notice board, where I read about our recent 220km charity bike ride between the Dublin and Limerick offices.
13:00 p.m.
Feeling refreshed after the break, I catch-up on emails at my desk and make a few phone calls to our depositary operations and services teams based in Dublin. The depositary business is a strategic priority and a huge area of growth, offering services that help clients with the challenges of regulatory reform. Ireland is one of the five regions where we offer depositary services so we catch up on a regular basis. Having spent half of my day in Hamilton House I'm keen to catch-up with employees in our City Plaza office, so I make the short drive there.
14:00 p.m.
The 12 members of the Limerick management team meet in the Foley room, named after the late Anthony Foley. I chair the meeting in which my senior managers provide updates and discuss our overall business strategy. The meeting is always an opportunity to foster a dialogue with our leadership teams, offer strategic advice to other parts of the business and identify areas where we can work more collaboratively.
15:00 p.m.
With the day coming to a close, I find an hour to complete a mandatory module from the Northern Trust University on anti-money laundering compliance required by all employees.
16:00 p.m.
I head to the Emerging Leaders Meeting hosted at the Northern Trust offices in our boardroom. Today, we have invited 25 members of the American Chamber of Commerce in the mid-west region to discuss best practices for promoting cross-cultural communication and action. It's a meeting where we explore how best to communicate with one another across different regions to facilitate growth.
This discussion is followed by an innovation showcase, with members of the Northern Trust innovation lab presenting their projects and ideas.
17:00 p.m.
I change ahead of a drinks reception hosted by Mark Redmond, the CEO of the American Chamber of Commerce at the Savoy Hotel. The reception brings together CEOs and Presidents from companies in the mid-west region. As I'm the Chair of the Mid West Region for AMCHAM, I deliver the opening address, outlining the value of working in collaboration. I took over the role from Barry O Sullivan, who is now President of AMCHAM.
18:30 p.m.
At the end of a busy, productive day, I arrive home where I am greeted by my children. I help my daughter, Patricia, with her homework before my husband and I prepare dinner. We sit down as a family to eat together and catch-up on our days.
20:15 p.m.
After dinner, I meet up with a group of local friends for our regular walk up the Ballina hills. Surrounded by forest, green hills and the County Tipperary lake, we catch-up, chat and clear our heads.
21:30 p.m.
Back at home, I reflect on today's successes - notably our graduates' eagerness and excitement about their experiences on the rotational development programme, and the opportunity to share new ideas on collaboration with the Limerick management team.
I also recall the conversation I had with a colleague in the canteen who informed me that 20 employees volunteered to support brain injury charity, Headway, in taking their members on a day visit to Bunratty Castle just outside Limerick.
Limerick is a leading global fund administration centre of excellence for Northern Trust, and I'm proud to lead our two vibrant, energetic offices in the city. Through our talented employees, continued collaboration with industry partners and educational institutions, we underline our commitment to Ireland's fund industry, and the thriving mid-west region.