A second city for financial services already exists in Ireland and that city has both the ambition and the capacity to become a leading European Financial Centre. In the near term we expect tremendous growth in International Financial Services (IFS) in the city, particularly in the areas of Fintech and funds/asset management.
Technology is the number one FDI employer with over 14,000 professionals employed in the sector in the city. It is evident that technology is both transforming and disrupting financial services and we forecast significant growth in Fintech in the near future.
The central role technology will play in finance over the next decade is demonstrated by the decision by international bank State Street to partner with University College Cork and the Chinese Zhejiang University (ranked 7th in the QS University Rankings: BRICS 2016 and within the top 100 universities in the Times Higher Education World Reputation Rankings.) to set up a Fintech Research and Development facility in the city. The State Street advanced technology centre is focused on research and development of emerging technologies applicable to Financial Services, focusing on themes such as distributed ledger technology (Blockchain) and investor behaviour.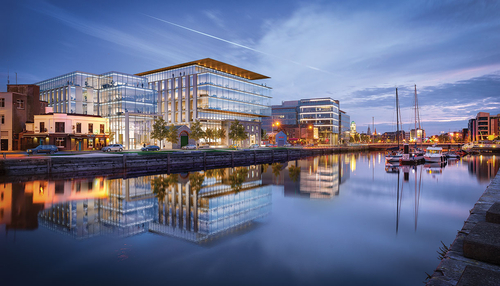 In addition to the advanced technology centre, State Street is also doing a joint project with University College Cork in the area of Regulatory Technology (Regtech). The technology takes a data set (from multiple sources) used in quarterly regulatory reporting and leverages novel technology, known as semantic modelling, to aggregate that information for regulatory reports. They estimate that the agility and flexibility of the approach means that multi-month projects to respond to new regulation could be reduced to just weeks. State Street chose to open the advanced technology centre in Ireland due to the strength and depth of both international financial services and technology experience and talent located there.
In terms of indigenous Fintech companies, within an hour's drive of Cork city both Fexco and Monex Financial Services (both based in Kerry) have world class Fintech and payments expertise. Fexco, which employs 800 people locally, process more than US$10 billion in payments per annum and has made a number of substantial acquisitions recently, including Goodbody and No 1 Currency. Looking towards the future, Fexco recently partnered with UCC and ITT on a first-of-its-kind third level innovation challenge focussed on the digital payments sector. Monex FS, whose primary focus is dynamic currency conversion, processes 190 million credit card transactions per annum while GlobalShares, which is an international leader in Fintech solutions for companies to automate the administration of their employee equity plans, recently announced further expansion.
According to data from the IDA, of the 33,000 people in FDI employment in the city 1,500 professionals are directly employed in IFS roles. Based upon comparable data from other sources, we conservatively estimate that a further 3,500 are employed in finance roles in non-IFS companies, giving a total for IFS and non-IFS FDI businesses of approximately 5,000 jobs.
Until 2014 the majority of asset management IFS employment was focused on administration and servicing of funds. More recently there have been several developments in the area of alternative asset management and international private equity and this is an area of tremendous potential, given the success of these initiatives.
For example, in the last three years two highly innovative asset management companies, Brookfield Renewable Partners and AlbaCore Capital, have established high value operations in the city. Brookfield Renewable Partners, which is the listed renewable power company of Brookfield Asset Management (a global alternative asset manager with over $250 billion of assets under management), acquired the Bord Gais Energy Renewables assets and the 54 strong commercial finance team in March 2014.
At the time of the acquisition it made clear its objective of building out the business as a leading renewable power platform with the full range of operating, development and investment capabilities supporting further expansion on a European basis. Although it is a very low profile company, since that acquisition Brookfield Renewable Partners has announced long term energy supply agreements with Facebook data centres in Ireland and also the completion of an additional 151 megawatts of wind projects.
AlbaCore Capital is one of the most keenly anticipated start-up asset managers in the credit arena internationally. The firm is a specialised European credit focused asset management exploring opportunities across European credit markets. According to media reports, it began building out its operations and support functions in the city in 2016. Bloomberg recently reported that the fund, whose investment management function is based in London, has secured a €500 million investment from Canada's Public Sector Pension Investment Board.
Based upon the experience in other sectors, the success of Brookfield and AlbaCore is likely to be followed by other similar asset management companies in the city in the near future (see page 6 for our story on Alter Domus' new Cork operations). Fund administration is instructive. This cluster began with Citco opening the Citco Data Processing Services in 2000 before subsequently adding a second office focused on hedge fund administration.
Due in part to their success, subsequently BNY Mellon also opened a business focused on mutual fund administration in 2007. Later they were also joined by Apex Fund Services, HedgeServ and IPES, all establishing related operations. Finally, in 2016 Clearstream entered the region through the acquisition of the original Citco Data Processing Services operation. In IFS once a firm sets up and is successful it tends to be followed by others and we are aware of several exciting new entrants to the local IFS ecosystem which are due to be announced in the first half of this year.
Other smaller clusters have built around expertise in investments and insurance. Davy, Investec and Blackbee all have a presence in Cork, while in banking Bank of Ireland and AIB both provide a full service Corporate Banking offering in the region to FDI companies. Both Aon Risk solutions and Laya Healthcare have insurance operations, while the principal operating office of NYSE-listed leasing company Ardmore Shipping, an international corporation engaged in ownership and chartering of product and chemical tankers worldwide through time-charter, pool and spot arrangements, is in Cork.
All of the Big 4 professional services firms (Deloitte, EY, KPMG and PWC) have full offerings in the city, including corporate finance, financial services audit and corporate tax services. These firms employ over 450 professionals and have the expertise to service the growing IFS sector.
With a working age population of over 400,000 within one hour commute of the city there is clearly large capacity for tremendous expansion. In addition, the Cork University Business School at University College Cork produces over 1,000 high quality business graduates (from undergraduate and postgraduate business programmes) each year and this number is set to increase with the School's ambitious expansion plans.
The Business School, which is ranked number 1 in Ireland for undergraduate education and research income, is half way through the recruitment of 30 new professors in business and has committed to developing whatever new programmes in financial services are required nationally to support the growth of the industry. Cork Institute of Technology also produces a large number of business graduates each year. The Chamber of Commerce also plays a strong role facilitating knowledge exchange between the senior management of IFS companies in the region to support growth.
Underpinning all of this success is a favourable cost base and excellent quality of life metrics. Office rentals are less than half the price of Dublin and 50,0000 square metres of office space with planning permission is due to come on stream. Salaries are 10 per cent to 15 per cent lower than Dublin, which is advantageous for companies. But with a much lower cost of living, the city is also very attractive to highly skilled workers who are ambitious but also wish to have access to excellent schools, short commuting times and to have the Wild Atlantic Way on their doorstep.
Finally, the city is extremely well connected internationally with an airport serving 2.2 million people with eight flights per day to London, direct links to Paris and Amsterdam and in 2017 new direct flights to New York and Boston.
This is a city, therefore, with both the ambition and the capacity to be a leading European Financial Centre. This city is Cork.