Recently Professor John McCanny, Principal Investigator at the Centre for Secure Information Technologies (CSIT) at Queen's University Belfast, the University's chancellor Tom Moran and vice-chancellor Professor Patrick Johnston visited Buckingham Palace to receive a Queen's Anniversary Prize for Higher and Further Education, one of the most prestigious honours awarded in higher education in the UK.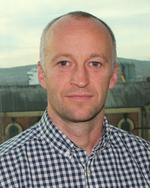 It is fitting recognition for a centre which, in just six years, has developed genuine breakthrough innovations in the rapidly growing discipline of cyber security. These include novel technologies to be integrated into apps to improve security for online financial transactions, anti-counterfeit technology to prevent internet fraud and new processors to filter out viruses, malware and malicious content from internet services delivered into homes and businesses.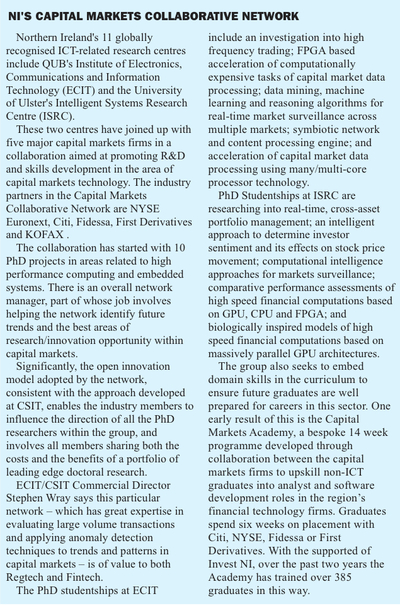 Now one of the largest university cyber security research centres in Europe, CSIT was the first of just seven national Innovation and Knowledge Centres (IKCs) established in the UK. Based at the Northern Ireland Science Park in Titanic Quarter, it puts academic researchers to work alongside commercial companies. Its 90 staff includes both academics and high calibre engineers recruited from industry.
CSIT's unique approach is credited with helping attract a large number of high-tech Foreign Direct Investment (FDI) and start-up companies to the region, creating more than 1,100 jobs in the process, along with other benefits which result from translating science into wider business and economic opportunity. The CSIT is directly responsible for six university spin-out companies so far and has mentored and supported close to 20 start-ups.
Innovation and Knowledge Centre
The story began in 2008 when QUB's Institute of Electronics, Communications and Information Technology (ECIT) won an open competition against universities throughout the UK to host of one of seven proposed IKCs. These centres are a key component of the UK's approach to the commercialisation of emerging technologies by creating early stage critical masses in areas regarded as disruptive technologies.
Funded by the UK's Engineering and Physical Sciences Research Council (EPSRC) and the Technology Strategy Board (since August 2014 known as Innovate UK), QUB's CSIT has also leveraged additional support from Invest Northern Ireland, the university itself and industry partners. The result is a centre delivering world class research, new value and venture creation and developing a novel entrepreneurial approach in the area of cyber security.
CSIT provides a unique environment that encourages collaboration between academics, researchers, engineers, industry and government to accelerate the translation of cyber and physical security research into commercial applications.
Stephen Wray, Commercial Director at CSIT, told
Finance Dublin
: "Traditionally universities have researchers and PhD students on three-year contracts and they end up leaving when things are getting to a crucial point. At CSIT we have created a new type of contract, based on the hi-tech business model, to employ engineering and business development staff with extensive industry experience. This approach contrasts with the more conventional way academic research is undertaken. Our starting points tend to be larger 'mission-driven' projects involving sizeable teams for which ambitious and challenging end goals have been identified.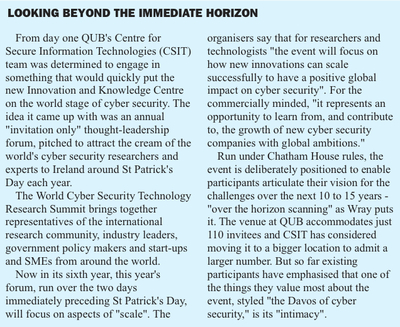 CSIT's multinational partners include serious industry players such as All State Insurance, Altera, BAE Systems, Cisco, Infosys, IBM, Intel/McAfee, Roke and Thales. At the same time, recent spin outs such as Titan IC Systems and MicroSense are seeking to emulate the success of earlier spin out companies, including Amphion Semiconductor and Audio Processing Technology.
Success in attracting strong commercial partners has helped establish CSIT's credentials globally, leading to international collaborations with leading cyber security institutes in the USA, South Korea, India and Europe. "International issues require international solutions," Wray says. "Our global innovation hub at CSIT has a unique approach in facilitating speculative blue skies and industrial informed research projects within the same institute."
The single overarching principle behind CSIT's research roadmap is that it is "securing our digital tomorrow". "Secure networks" is an integral component of this broad theme, broken down further into three core areas of activity: securing digital assets; securing digital devices; and securing digital citizens. CSIT uses the expertise within its different research clusters to assist in the provision of novel technologies for these core areas of activity.
CSIT has developed an open innovation model which enables its member companies and associates to help shape research roadmaps. Wray says: "A key element of our strategy for CSIT involves 'innovation conduits', with permanent groups of engineering staff sitting alongside the academic researchers and assisting with knowledge transfer, articulating capability, producing rapid prototyping and understanding the language and drivers of industry."
Wray adds that CSIT's commercially enlightened approach is reflected in one of Prof. John McCanny's insightful sayings: "A researcher is someone who can take a large amount of money to come up with a small idea. But an innovator can use a small idea to come up with a large amount of money."
Growing need
With cyber security rapidly emerging as a focus of interest and concern generally - and within financial services in particular - in many ways the CSIT is an idea whose time has come, says Wray. "Mention cyber security and people think of hoodies and kids in their bedrooms, but that's really only the surface. The real problem today is posed by serious organised crime, involving major attacks and advanced, persistent threats. And many of these go unreported."
He says the CSIT has seen a distinct growth in interest, too, from the FS industry. "When we were looking for industry partners five years ago many FS companies said they were indeed interested in the whole area – and then asked us to talk to their technology suppliers. Now they are recognising the need to develop their own capabilities. They see cyber security now as both threat and opportunity.""
The result has been an increase in the number of full and associate industry members, which is very much welcomed by Wray. "The closer we can get to the end user the better, the more quickly and appropriately we can move." Uniquely for an academic body, he stresses, "we have resourced a commercial team to go out into the marketplace. It's why we're constantly hosting open events, constantly trying to engage."
Does that mean that although it is a national UK body it is willing to engage with international FS companies located in the Republic? "Absolutely," he replies, "that's something we welcome. This is an international problem requiring international approaches."