Five years ago the Irish people gave Fine Gael and the Labour Party a mandate to fix the public finances and to get our country working again. Now, thanks to the hard work of the Irish people and the policies pursued by the Fine Gael/Labour Government over the last five years, the country is doing well. GDP grew in 2015 by 7 per cent and strong growth is continuing. Unemployment is down to 8.8 per cent. Confidence is increasing and the recovery is beginning to reach all sectors of the economy. Now we must keep that recovery going and Fine Gael has a long term economic plan to make that happen.
An important part of our recovery is its wide dispersal – with significant growth and job creation occurring in 11 of 14 economic sectors. This builds in resilience against future shocks, not least the crisis from which we are beginning to emerge. It equally justifies Fine Gael's policy of focusing our efforts on areas best placed to provide sustainable jobs and growth into the long-term.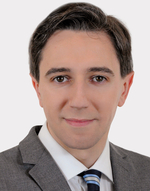 International Financial Services is one such area. Throughout the crisis this sector proved resilient in not only maintaining employment but adding several thousand jobs to the Irish workforce.
The International Financial Services (IFS) sector in Ireland includes more than 400 companies employing over 35,000 people, including 200 Irish-owned companies.
Fine Gael has supported and enabled the growth of Ireland's IFS industry by creating a business-friendly environment, working in partnership with industry to drive investment, entrepreneurship, jobs and innovation. And the results speak for themselves.
However, we cannot be complacent and as well as safeguarding the sector, we must always work to enhance it and recognise the huge potential within it.
As a result of the importance and great potential of the International Financial Services sector I was appointed the first dedicated Minister for this sector in nearly two decades.
My key role is to ensure that Ireland is an attractive place to invest in and that Irish companies are able and ready to compete and partner in an increasingly competitive international market place.
To achieve these goals, I have published IFS2020 and I am currently overseeing its implementation.
It aims to build on Ireland's strengths in talent, technology, innovation and excellent client service and to highlight all that Ireland has to offer as a location for specialist international financial services.
This strategy sets out a clear vision for the sector for the next five years and an ambitious target to create 10,000 net new jobs in the sector by 2020. A significant number of these jobs will be created in the regions, reflecting the increasing national profile of the sector, with one third of jobs currently outside Dublin and helping to ensure the recovery is felt in all parts of the country.
Key priorities in the strategy include:
• leveraging our unique ICT and international financial services clusters so that we become a global leader for fintech;
• increasing the profile of Ireland as location for specialist international financial services by convening a major IFS summit in Ireland in 2016; developing a strategic programme of trade missions and international promotion for the sector and developing a single banner brand for overseas engagement;
• actions to enhance our IFS ecosystem and competitiveness, including in the areas of skills, innovation, physical infrastructure and regulation; and
• the creation of a new implementation framework, driven by a High Level Public Sector Implementation Committee and a new IFS Industry Advisory Committee which will replace the IFSC Clearing House Group.
Implementation of the strategy is being led by a high level implementation committee chaired by myself and composed of key secretaries general and agency CEOs. It meets quarterly with an IFS Industry advisory committee with representatives from both multinational and Irish-owned companies and is supported by working groups to drive progress on specific actions, as well as a project co-ordination team to be established in the Department of the Taoiseach.
This is a journey and we do face challenges in moving Ireland up the IFS value chain while maintaining strong sectoral growth. Budget 2016's near €100 million commitment in tax supports for start-ups is a first step in a multi-year approach to delivering on the objectives of last year's National Entrepreneurship Policy statement.
I am encouraged by the progress we have made so far. Fine Gael is committed to maintaining momentum in implementing IFS2020 and supporting the IFS sector into the future. Fine Gael has a long term economic plan to keep the recovery going and job creation is at its core. As a key generator of employment and an important pillar of our economy the International Financial Services sector will play a vital role in Fine Gael's plan for this country's future.