The possibility that the first person to live to 1000 may already have been born was one of the tantalising thoughts raised by Dr Aubrey de Grey in his address to the recent European Insurance Forum held at Croke Park. Dr de Grey, who is Chief Scientific Officer at the Sens Research Foundation, explained that as we age we gradually accumulate cellular damage that eventually leads us to succumb to the diseases and illnesses associated with older age.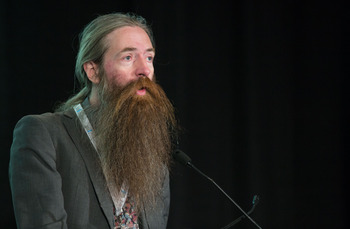 However, the nature of this damage now appears to be well understood and some seven types have been identified. The good news is that promising therapies have been discovered for each type of cellular damage and de Grey thinks that here is a fifty-fifty chance of these therapies coming to fruition within twenty to twenty-five years, but that the proof of concept may be much nearer, perhaps within five years. In the ensuing panel discussion it was questioned if it was necessarily a good thing to prolong human life like this, but when it is realised that 90 per cent of medical spending in the developed world is on alleviating the consequences of ageing and the miseries associated with it, the argument for rejuvenation medicine looks pretty strong. When one considers that the great success of the twentieth century in almost eradicating infectious diseases was due to preventative therapies, such as vaccination, it seems a great mistake that only a tiny fraction of current medical research expenditure is on rejuvenation therapies.
Technological development - huge potential for insurance underwriting
The future was also the theme of one of the break-out sessions addressed by Jordi Postumus of Hannover Re. In this case it was about the breakneck speed of technological development and in particular about the paradigm shift represented by the Apple watch and similar devices. Postumus explained that the Apple watch will soon be used by us all instead of credit cards, hotel room keys, remote controls, boarding passes, movie tickets and fitness trackers among other things. From an insurance and underwriting point of view it has huge potential, being able to monitor heart rate, O2 saturation, respiration rate and even blood pressure. Postumus went on to show that resting heart rate data alone is predictive of stroke and that studies have found it to be also a risk factor for cancer. Heart rate variability is even more predictive as is the speed at which the heart rate returns to normal after exertion. The telematics developments that are already taking place in motor underwriting may soon also be available to life underwriting, which will evolve from a medical science to a data science.
Systemic risk and globalisation
That the future is not necessarily a safe place was brought home to us by Professor Ian Goldin, who holds the impressive title of Professor of Globalisation at Oxford University and is author of the The Butterfly Defect. Goldin argues that globalisation creates systemic risks and that the growth in the power to disrupt is exponential. What if ISIS can hack into the Pentagon? Nevertheless he sees the pandemic risk as much greater than the military one and calls for a world that is connected but (better) protected. He argues for (among other things) global SWAT teams to catch pandemics at source, for greater diversification of financial centres to mitigate the concentration in New York and London, and for a global agency responsible for cyber security which he describes as the orphan of the world system.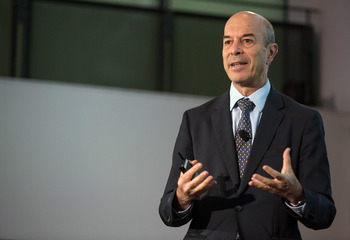 Solvency II
The Forum also dealt with the big issues of the present facing the insurance industry and both Solvency II and BEPS got a good work-out. Sylvia Cronin, Director of Insurance Supervision at the Central Bank, kicked off the conference with a regulatory overview and some of her themes were taken up at two later panel sessions.
At one of these a questioner from the floor pointed out that it appeared from the last EIOPA stress tests that some companies would not be able to cover their SCR and asked how regulators were going to deal with that. Professor Karel van Hulle, one of the architects of Solvency II, suggested that SCR was a target and that you should talk to your regulator as your friend in this situation. However, Tim O'Hanrahan from the Central Bank did not seem quite so accommodating in his response.
David Walsh of the Sunday Times was the keynote speaker at the evening session and talked about his role in exposing Lance Armstrong and the murky world of illegal drugs and professional cycling. Simon Harris, the Minister for State with responsibility for the IFSC was also a speaker and outlined the revised strategy for the sector and the increased role FinTech is expected to play.
Declining insurance penetration in developed economies
It was back to the future for the last session of the Forum, in this case the future of insurance itself in an affluent and developed world. Enda Murphy of RGA showed how insurance penetration has declined in the US and UK over the last 10 years - from 1.6 per cent to 1.3 per cent and 0.9 per cent to 0.5 per cent of GDP respectively - although the decline was smaller in Continental Europe - from 0.9 per cent to 0.8 per cent. He offered some explanations for this, including that the industry has become more internally focussed and distant from customers with regulatory constraints reducing the size of the sales force and products becoming more expensive.
Arjen de Boer of ITDS showed that the industry is far behind when it comes to mobile and social media and needs to put much more emphasis on its dialogue with the customer. On this challenging note the Forum ended. It had, in all, over 40 speakers and some 230 delegates.