By John Lyons
Another theme running through the two days was Ireland as a place to do business and it was encouraging to see the Central Bank well represented among the speakers and ready to explain its position on different matters. Patrick Manley of Zurich Group described how and why his company decided to make Dublin an international hub for their general insurance business without mentioning the 't' word. Barry O'Leary, the soon to depart CEO of the IDA, explained that companies have typically a list of 10 to 15 factors to take into account when deciding on a location and that it doesn't come down to just one or two things.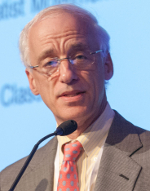 The other pending leaver, John Moran of the Department of Finance, spoke about the need for non-bank financing for business and the role the insurance sector can play in this. He spoke of insurance as an area where Ireland can punch above its weight and mentioned that the Special Assignee Relief Programme (SARP) would be reviewed to make it easier to bring talent into the country. A PwC survey, carried out among DIMA members and launched at the Forum, showed that 52 per cen of insurance leaders said that the single key priority for Government in order for their organisations to achieve their growth plans is concerted promotion of Ireland as a location from which to operate insurance businesses. Let's hope the new heads of the IDA and Finance will also recognise the value of insurance to the economy and take up this challenge.
The EIF has been running since 1999 and is organised by DIMA which represents insurance and reinsurance companies and the managers of captive insurance companies.