Avolon has hired Morgan Stanley and JP Morgan as advisers and AWAS has hired Deutsche Bank and Goldman Sachs as advisers.
The spate of recent M&As has also seen Ireland's already significant role grow within the global industry. For instance, the acquisition of RBS Aviation Capital by SMBC (with the company renamed SMBC Aviation Capital) has seen SMBC's pre-existing leasing assets in the Netherlands transfer to Ireland while AerCap plans to register ILFC's near 1,000 aircraft fleet in Ireland upon completion of its takeover of ILFC. In another potential boost, GECAS, the world's largest aircraft leasing firm is considering moving its headquarters from Stamford, Connecticut to Shannon, where it already has substantial operations, according to Wells Fargo's Gary Liebowitz's in his newsletter Liebo's Letter.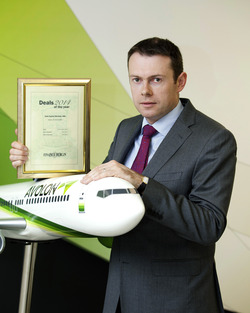 Four year old Avolon has, since its set up, sourced equity funding of $1.4 billion and debt finance of $5.8 billion and has developed a fleet of 115 aircraft with an order book for an additional 87 units. Avolon's investors include Cinven, CVC, Oak Hill and the Government of Singapore. The lessor has also entered into a $500 million joint venture with US bank Wells Fargo, Avolon Capital Partners, in February 2013 that will build a fleet of young aircraft through sale/leaseback transactions.
AWAS, headquartered in Ireland, operates a fleet of over 280 aircraft that are deployed with over 100 airlines in 48 different countries. The company, which has existed for over 30 years, is currently owned by private equity group Terra Firma. The decision on a trade sale or IPO will depend on the outcome of a strategic review.
The moves by Avolon and AWAS follow the announced acquisition in December of the world's second largest lessor, ILFC, by AerCap. AIG, the owner of ILFC, had agreed a sale of the company to a consortium of Chinese financial institutions, which fell through and subsequently considered floating the unit in an IPO before an agreement was reached with AerCap. Another recent divestment of an Irish-based aircraft lessor, RBS Aviation Capital, was done by a trade sale when parent company RBS sold the lessor to Japanese bank SMBC.
Other private-equity groups have also opted for trade sales rather than IPOs. For instance in October 2012 private-equity firm Oaktree Capital Group LLC sold US-based aircraft lessor Jackson Square Aviation, which had a fleet of 76 next generation aircraft, to Mitsubishi UFJ Lease & Finance Co. for in excess of $1.1 billion.
Commenting on the moves by Avolon and AWAS, Joe Gill, consulting editor in
Finance Dublin
sister publication
Aviation Finance
said: 'If equity markets remain stable, and airline financial performance continues to improve, it is increasingly likely that AWAS and Avolon in particular will have either been acquired by trade buyers keen to raise their exposure to the fast developing aircraft leasing market, or else these companies will join the stock market listed group and help further raise the profile of air finance in the broader institutional equity community. Either way, the sector is facing significant corporate finance activity to follow the record breaking ILFC deal in Q4 2013.'