This year's
Finance Dublin/Finance Magazine Accountancy Survey
shows that accountancy in Ireland has continued to grow albeit at a slower rate than last year's survey showed. The rise in total fee income that was recorded in last year's survey brought to an end the annual falls recorded in the 2009, 2010 and 2011 surveys.
This year's survey shows a 1.7 per cent growth in fee income for the country's top twenty firms, at €1,126.1 million, up from 2012's €1,107.2 million. This also builds upon the 3.3 per cent growth in the 2012 survey.
Prior to this in 2011 total fee income of the top 20 firms stabilised with a slight fall of 0.1 per cent but in the two preceeding years revenues fell sharply. In 2010-11, fee income fell by 10.1 per cent and in 2008-9 there was a drop of 5.1 per cent, which was the first recorded fall in the history of the survey, which began in 1987.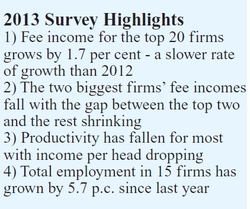 However overall fee income for 2013 is still some 10.9 per cent below the peak achieved in 2008. In the same five years, GNP has shrunk to just 92.5 p.c. of its 2008 level, indicating that the share of national income (GNP) of the top 20 firms has been squeezed (by 3.7 p.c.) compared with other sectors.
The pace of growth has fallen at a time when it might be expected that, with an economic recovery underway, fee incomes would be responding positively. The reason for this is the top two firms in Ireland KPMG and PwC both saw their fee incomes fall in 2012 and as the two combined make up 47.6 per cent of the total fee income of the top 20 a fall in both has a significant impact in the overall figure.
PwC, the largest in the country by fee income, fell from €300 million in 2012 to €297 million in 2013, 1 per cent. KPMG saw a decline from €246 million to €239 million, 2.8 per cent. These falls are noteworthy because they are at odds with the rest of the industry which has grown quite strongly.
When KPMG and PWC are taken out of the total top twenty fee income figure the next 18 firms grew by 5.15 per cent and with the top two taken out of the top ten firms the figure is 6.01 per cent for the other eight firms.
Through the years of falling fee incomes from 2009-2012, the top two firms had bucked the industry trend and were relatively stable. KPMG in fact grew its fee income in the years 2010, 2011 and 2012. A possible expanation for this is that the Government, state related and other crisis related advisory work resulting from the financial crisis was adding fees. For instance KPMG was the top earning professional services firm with NAMA earning over €22.29 million for three years of work between 2010 and 2012 - earning €10 million in 2010 alone. Similar work was required with banks and other distressed crisis-related work which would have peaked in 2010 and with the crisis now beginning to resolve firms that have been heavily involved in this work will see fees falling in this area.
Another factor to consider regarding the each firm's fee income figure is the financial year end date that each accountancy firm submits in this survey. For both PwC and KPMG their fee incomes are for the year ending December 2012. Whereas for firms with a financial year end date that is within 2013 results are somewhat more positive and benefit from the improved economic fortunes of the country and the turnaround in business with their clients.
This factor of financial year end date however has not been a factor for Deloitte - the outstanding performer in this year's survey. Deloitte which reports a financial year end date of calendar year 2012 grew its fee income by 10.8 per cent. This builds on the previous year's growth of 6.3 per cent. Over the past two surveys Deloitte has grown by 17.8 per cent.
The fourth largest firm EY has also grown significantly, by 8.7 per cent. They grew strongly last year up 4.2 per cent. It is worth noting that EY reports with a 30th of June 2013 end year.
The gap between the top two and third and fourth has shrunk considerably and is quite different from 2011 when Deloitte, the third largest firm, was 45 per cent the size of PwC the largest and now Deloitte is now 53 per cent the size of PwC. It is also worth noting that the figures used in the survey for both PwC and KPMG are an 'all Ireland' figure and include their respective Northern Ireland practices. This is not the case for both Deloitte and EY who report their Republic of Ireland figure only, so the gap is smaller between the top four than is recorded in these figures.
Comparing various firms with their peak fee incomes provides the positive news that a number of firms are approaching again their all time highs, most of which were in 2008.
Deloitte are at 96.6 per cent of their peak and EY are at 95.6 per cent, the survey shows. Firms exceeding their peak include Baker Tilly Ryan Glennon at 104.9p.c., Moore Stephens at 101.4 p.c. and Hughes Blake at115 p.c. of peak. It is worth noting however that BTRG's figure benefits from a merger.
Some firms however are someway off of their peak years. For instance, Russell Brennan Keane are 54.3 per cent of the peak. The top two firms have also yet to claw back their way to peak. PwC are 83.7 p.c. of peak and KPMG are 77.7p.c. of peak.
Productivity has fallen across the board. Our measurement seen in the table below where we break down company fee incomes per head of staff member shows that universally accountancy firms are less productive.
Considering that fee incomes are broadly up as reported above and employment is up 5.7 per cent as reported on page 9 this falling productivity is down to increased staff numbers rather then fallling income. This can be seen in the aggressive hiring in some firms. For instance, Grant Thornton have expanded its workforce by 73 up from 417 to 490. Baker Tilly Ryan Glennon also have grown their employment numbers up from 85 to 120. Baker Tilly Ryan Glennon were the most productive last year by quite some distance with income per staff of €168,235 - this year as can be seen in the table below to €125,000 which is still towards the top of the table in terms of efficiency.
In terms of who runs the tightest ship RSM FGS take that honour. They recorded €127,660 income per staff member in 2012's survey which has risen to €128,947. Mazars come in second at €127,273 and KPMG third at €126,790 income per staff.
Speaking to Finance Dublin in the Managing Partner's Forum (which appears in full on financedublin.com), Ronan Murphy managing partner of PWC says that 'sectors of our business doing well include the areas of the economy which are driving the recovery. These include exporting companies who are expanding their marketing footprint abroad as well as the multinational sector who are seeking to invest/reinvest in Ireland and/or using Ireland as a platform to expand their operations into Europe and further afield. Corporate recovery is another area showing robust revenues as companies continue to restructure debt and review operating models.
Brendan Jennings managing partner of Deloitte on best areas says, 'Notwithstanding the extremely competitive marketplace, fortunately, we are observing growth across a number of sectors of our business. Similar to recent years, we are seeing growth in the areas of debt advisory, restructuring services and forensic and dispute services.
Mike McKerr, managing partner, EY says: 'In our Transaction Advisory practice there has been an increase in demand for our services from debt burdened companies seeking positive solutions to help restructure their balance sheets. However, we are seeing a change in trend, and anticipate growth in transaction services as there is an on-going demand for corporate recovery services, now supported by the re-emergence of a more normal transactions market.'
Shaun Murphy, KPMG says, 'There is a general increase in positive economic sentiment although this is still somewhat fragile. As evidence of that positivity we are seeing stronger transaction activity both in terms of domestic deals and companies looking to invest internationally. We are also seeing a return to successful fundraising in certain areas of the economy. At the same time clients in some sectors continue to face significant challenges and we are busy helping them with issues such as debt restructuring, cost management, advice around outsourcing and change management projects.'