Q: Speaking as an American, with a primary responsibility of protecting the interests of American small savers and pensioners, would you say that Ireland's financial services industry can play a full role in helping to work towards this objective, while fulfilling its own regulatory responsibilities within Ireland, and the EU, and the eurozone?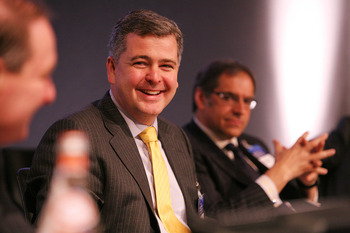 A: 'Absolutely. Members of the financial services industry across the globe can and should take an active role in protecting the interests of their clients. More than that, they should work to instill in their clients faith and confidence in the financial markets by operating ethically and transparently. They should do so not only to fulfill the basic tenets of financial services regulation, but because ethical and transparent behavior is, quite simply, good for business.'
Q: Do you think Ireland should fear committing itself to full blooded development of its international financial services sector in the wake of the credit crisis?(By way of background: some people in Ireland might currently, mistakenly, in my view, fear the existence of Irish registered companies with large balance sheets, because of a misconception that this would involve Government capitalisation of banking balance sheets?)
A: 'I believe that, as in the US, policymakers in Ireland should strive to provide the right climate for financial services activities, which comprise a material portion of both countries' GDP. I fear, however, that the pendulum has swung too far in both the US and EU towards a "nanny state" regime for financial services regulation. In particular, I'm disturbed by the trend towards a bank regulatory approach to markets, including capital markets, that is premised on the notion of "de-risking." Capital markets are meant to be risk-taking markets, and the capital formation process cannot survive in a risk-free environment.'
Commissioner Gallagher, proud of his Irish heritage, (his family originally hails mainly from Co Roscommon) is very positive about the prospects for Ireland to develop its international financial services industry, emphasising that now is the time for Ireland's business community to press forward on the basis of the many advantages that Ireland has, as shown in multiple surveys highlighting the positive business environment in the country.
Q: What areas could you see Ireland's IFSC being developed as a trading partner for US international financial services? For example in hedge fund administration, money market funds, insurance and aviation financing?
A: 'There is a very strong US financial services presence in Dublin right now, and I have no reason to believe that this presence will diminish. It will be interesting to see whether, and if so how, the regulatory actions being taken in the US and EU will drive activity out of some financial centers and into others, especially those - like Ireland - with lower corporate tax rates. You have this business friendly business environment, as evidenced by multiple surveys, and well known abroad. I don't think it is the time to be shy.'
Q: In terms of the future US regulatory agenda, how do you see the SEC's historic mandate developing? In a word: Wall Street or Main Street, or both?
A: 'Both. The SEC's broad mandate is sufficiently elastic to cover many areas, from regulating the activities of "Wall Street" financial services firms to protecting the individual "Main Street" retail investor. And the Dodd-Frank Act has increased SEC jurisdiction in several areas, not the least of which is OTC derivatives. It will be important for the SEC to assert its role as a capital markets regulator as more and more activity is taken up by multilateral groups such as IOSCO and the FSB on the international level, as well as the new Financial Stability Oversight Council in the US.
Q: What are your views on the current US monetary environment, and the challenges it is throwing up to the SEC in fulfilling its mandate in the years to come?
A: 'The low interest rate environment we have had in the US for the last several years has caused investors to seek yield in a variety of different markets and products. Yield-seeking is not necessarily a bad thing for investors, but I do worry that some investors – for example, retail investors that may not have the background to understand complex financial instruments or retirees needing to protect their "nest egg" – are responding to the lack of returns offered by traditional products such as bank CDs by turning to products that may not be appropriate for them, such as higher-yielding but far riskier junk bonds and structured products. I also worry that the fixed income markets, in particular, have experienced a significant expansion and there could be a real problem for small investors when interest rates eventually rise.'