'The management buyout was the natural outcome following HSH Nordbank's decision to exit aircraft finance and makes sense for both sides,' says Mitchel Simpson, CFO of Amentum. 'HSH will continue to hold significant aviation exposures for several years as it winds down its aviation portfolio of circa. $5 billion including investments of $1.5 billion in leased assets managed by Amentum. The excellent working relationship between the parties underpinned the agreement whereby Amentum will continue to provide lease management, remarketing, technical and aviation advisory services to HSH. It was key for us to keep our excellent multi-functional team together as we develop the platform further and take on new customers.'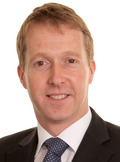 Amentum has always been an Irish company and its staff is entirely based in Dublin. 'We see no need to change that since Dublin is a key hub for commercial aircraft leasing with a favorable regulatory and tax framework including the network of double taxation agreements that should ensure Dublin will remain a successful aircraft leasing hub for the foreseeable future,' says Simpson. He notes the recently published Action Plan For Jobs 2013 and hopes 'the prominence given to aviation is a reflection of the Government's continued commitment to the leasing space.' He adds that the high caliber of people in Dublin with aircraft leasing skills and a well-established advisory infrastructure are also key factors for the company.
'The Amentum strategy will continue to be focused on providing aircraft investment advisory and lease management services to financial institutions and investors. We believe this is an exciting time as many new entrant investors are actively considering the aircraft investment space. Whilst our core business does not change, the main difference going forward is our ability to provide services to new customers as an independent third party service provider and we are very pleased to have already been able to add new investor customers to our client base. As a captive lessor and asset manager for HSH we had only limited scope for developing the third-party asset management and advisory business so we are looking forward to having that flexibility now to grow the business to its full potential.'
Amentum was founded in 2005 as the aviation asset and remarketing arm of HSH Nordbank to manage its aircraft leases. It has since progressed from captive lessor to dedicated third party asset manager with a diversified customer base of financial institutions. Its portfolios under management currently comprise 48 aircraft valued at $ 2.3 billion. It supports 16 airlines across 12 countries in Europe, Latin America, Asia and the Middle East.