The latest GFCI Index rates Dublin as the most likely EU financial centre to become more significant. Overall Dublin is ranked 33rd out of the 88 cities included in the latest Global Financial Centres Index. Within Western Europe Dublin retains 8th position, after London, Zurich, Luxembourg, Geneva, Frankfurt, Munich and Paris.
The GFCI is published every six months, in March and September. The first Index was published a decade ago in March 2007, when just 46 cities were surveyed.
Dublin's best ever ranking was 13th in 2008/2009, following which it consistently slipped as Ireland's banking crisis and subsequent bail-out during the global financial crisis weighed heavily on its ranking, reaching a low of 70th out of 83 cities in GFCI 16 published in September 2014. Its ranking has improved in subsequent surveys, rising to 39th in March last year and to 31st last September.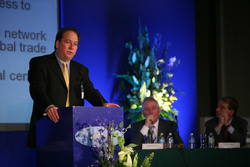 >
While the ranking is clearly important, of perhaps equal relevance is the trend in the points, or rating, used to determine the ranking. The rating is determined by combining 101 quantitative measures obtained from such third parties as the World Bank, The Economist Intelligence Unit, the OECD and the United Nations, with financial centre assessments provided by respondents to an online questionnaire.
This facilitates a more meaningful comparison of directly competing centres. Dublin's rating in the latest index, 663 points, was unchanged on the previous index and is the highest ever recorded since the GFCI began. Its previous highest rating was 654 points in March 2010, when Dublin ranked 18th, and the lowest was 579 points in the very first index.
Comparison with London and New York, consistently ranked first and second respectively since the index began, reveals the extent of the improvement in Dublin's competitiveness over the past decade. Between GFCI 1 and the GFCI 21 London's rating has risen by 2.2 per cent to 782 points and New York's has risen by 2.6 per cent to 780 points. Over the same period Dublin's has risen by 14.5 per cent.
At a time when EU financial centres are competing for business opportunities arising from Brexit the index also provides timely information on how well they are perceived relative to each other. Ireland's position relative to other EU centres is an unchanged 6th place since GFCI 20, behind London, Luxembourg, Frankfurt, Munich and Paris.
However, reflecting a significant improvement between GFCI 19 and 20, when Dublin gained 8 places in the ranking and 20 rating points, in the latest GFCI report the Irish capital features strongly in 8th place in a global ranking of centres regarded as 'likely to become more significant'. Luxembourg is immediately behind in 9th position.
Consistent with this, in exploring five aspects of competitiveness Dublin has jumped 15 places in the six months to 13th place under the 'reputation' heading.
GFCI 21 also looks at the profiles of financial centres in terms of the breadth and depth of their FS offerings. Dublin is one of 14 centres identified as a global leader under this heading. The only other European centres to qualify for this elite list are London, Frankfurt, Geneva, Paris and Zurich.
GFCI 21 was compiled by the China Development Institute and Z/Yen Partners.